Economic Benefits of Walking and Bicycling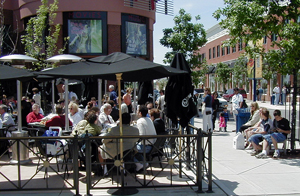 Walking and bicycling are affordable forms of transportation. Car ownership is expensive and consumes a major portion of many Americans' income. When safe facilities are provided for pedestrians and bicyclists, people can walk and ride more and spend less on transportation, meaning they have more money to save or spend on other things.
The cost of operating a sedan for one year in 2013 is approximately $10,374 (AAA, Your Driving Costs).
According to AAA and the 2008-2012 American Community Survey, ownership of one motor vehicle accounts for 19.5 percent of a typical household's income.
The cost of operating a bicycle for a year is only $308 (League of American Bicyclists).
An eight-year study of Atlanta communities suggests that a two person household in a walkable community saves over 260 gallons of gas annually. If gas is $3.25 per gallon, that is over $850 in savings.
Walking is free!
Less than the monthly car payment
The annual cost of operating a bicycle is approximately $308 a year, less than the average monthly car payment.
Furthermore, an increasing number of studies show that bicycle and pedestrian facilities increase home values, drive spending at local businesses, and spur economic development in communities.