Social Justice Issues Related to Walking and Bicycling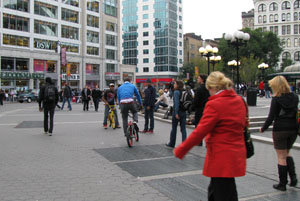 When providing facilities such as sidewalks, crosswalks, and bike lanes, communities allow people to choose how they want to travel. One consequence of not installing these facilities is to force people to travel by personal vehicle or to engage in unsafe walking and biking practices. For those who do not have the option to drive, such as adolescents, those unable to afford a car, and people with certain disabilities, this lack of choice in transportation creates an inconvenient and socially unjust barrier to mobility.
0.7 Percent
Thats's how much federal travel funding is spent on improving pedestrian facilities.
The high cost of car ownership means that low-income families will have to spend a greater portion of their income on owning and operating a car or choose not to have one. If automobile travel is the only feasible mode of transportation in a community, low-income families are placed at a large disadvantage with very limited mobility. By providing safe and convenient pedestrian and bicycle facilities, the community can ensure that all citizens have access to a viable mode of transportation.
Social Justice Facts
Households with an annual income of less than $25,000 are nine times more likely to have no car than households with incomes of greater than $25,000 (NHTS 2001).
While only accounting for 12 percent of the population, African-Americans make up 20 percent of pedestrian fatalities (Pucher and Renne).
Only 0.7 percent of federal transportation funds are spent on improving pedestrian facilities (Pucher and Renne).
Reports using the National Health Interview Survey indicate that the highest obesity rates are tied to the lowest income and education levels.
Better conditions for walking have intangible benefits to the quality of life in cities and towns. In a growing number of communities, the level of walking is considered an indicator of a community's livability—a factor that has a profound impact on attracting businesses and workers as well as tourism. In cities and towns where people can regularly be seen out walking, there is a palpable sense that these are safe and friendly places to live and visit.
The social interaction possible when the number of people walking increases is a major factor for improving quality of life. Comfortable and accessible pedestrian environments offer alternatives to personal vehicles, which limit opportunities for social contact with others. By providing appropriate pedestrian facilities and amenities, communities enable the interaction between neighbors and other citizens that can strengthen relationships and contribute to a healthy sense of identity and place.