FAQ Search Results
What is the Bicycle Commuter Act and what are the tax benefits for biking to work?
The 2008 US Census Bureau's American Community Survey (ACS) found that 0.55% of the US population used a bike as their primary transportation method for getting to work. The 2008 numbers represent a 14% increase in those biking to work since 2007 and a 43% increase since 2000.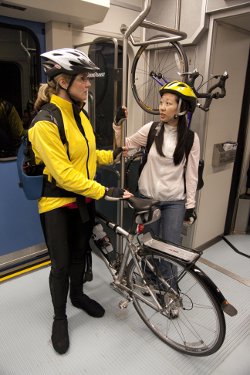 Commuting to work by bicycle has many health, economic, and environmental benefits. Riding your bike to work can increase your physical activity and promote a healthier lifestyle through reduced risks of heart disease and stroke and improved mental health. Bicycling to work can also eliminate emissions that otherwise would have been produced when driving, overall reducing harmful effects on the environment. Visit the PBIC Web page on benefits for bicycling for more information.
Along with the personal health benefits and environmental benefits of bicycling to work, there is now even more of an incentive to bike to work. In 2008, the Emergency Economic Stabilization Act was passed by the federal government. The Qualified Bicycle Commuting Reimbursement was included in this Act under Section 211 "Transportation Fringe Benefit to Bicycle Commuters." The reimbursement program for bicyclists was added to the existing list of qualified transportation fringe benefits that are covered in section 132 (f) of the Internal Revenue Service Code which includes those who take transit to work or drive and park.
As listed in section 132 of the Internal Revenue Service Code, only an employer can provide the qualified transportation fringe benefit to employees. Those who are not eligible include sole proprietors, partners, independent contractors, and two-percent shareholders of S corporations, while common law employees and officers of corporations are eligible. Employees cannot receive both the transit and bicycle qualified transportation benefits within the same month and they currently can not be funded through employee pre-tax income.
It is the employer's decision as to whether or not an employee can be reimbursed through the Act. Employees may receive up to $20 a month to cover the employees bicycle commute related expenses. The Act was intended to help cover costs related to commuting by bicycle including the purchase of a helmet, bike lock, shower facilities, bike parking, maintenance, and a commuter bicycle.
The first step to having this benefit implemented in your workplace is talking with your employer. Work with other employees that commute by bicycle to work as well, and encourage them to talk with your employer.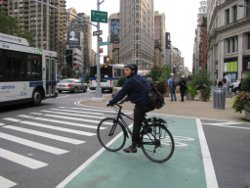 Many employers hold contracts with Commuter Benefit Providers to conduct the bicycle commuter benefit program. It is also possible to carry out the bicycle commuter benefit program in the workplace through a cash reimbursement program implemented by the employer.
Resources
The League of American Bicyclists offers numerous resources related to the Bicycle Commuter Act, including:
These resources can be used to show your employers possible ways of implementing the program within your workplace.