Curb Bulb-outs with Bicycle Parking
Corvallis, Oregon
Source: Pedestrian and Bicycle Information Center (PBIC)
Problem
The rate of crashes involving pedestrians experienced a sharp increase in the downtown area.
Background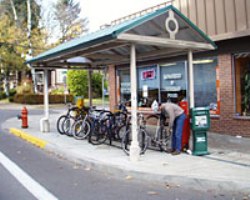 Monroe Avenue at 21st Street.
In 1995, Corvallis had a total of six pedestrian crashes, the majority of which took place within the downtown area. In 1996, the number of pedestrian crashes increased unexpectedly to 22, with the majority in the downtown area. The City needed to devise a plan to increase the safety of the downtown area for pedestrians, as well as address the needs of the numerous cyclists who live and travel there for work, shopping and entertainment.
Solution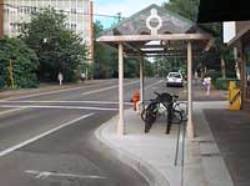 Sidewalk bulb-out with covered bike parking.
The Bicycle/Pedestrian Advisory Commission determined that curb extensions furnished with covered bicycle racks would help both pedestrians and cyclists while also slowing down traffic. The City decided to install three curb bulb-outs/curb extensions on Monroe Street, the main commercial strip next to the Oregon State University campus, to maximize the impact in an area with heavy bicycle and pedestrian traffic. The total cost of the three intersection curb extensions and covered bike racks was $140,000. The Oregon Department of Transportation funded $100,000 of the project and the City of Corvallis funded the remaining $40,000. The bike rack coverings were designed specifically to blend in with the area's architectural style. The existing bike lanes along Monroe Street prior to this project were not changed.
The new bulb-outs were the beginning of an attempt to focus on pedestrian safety within the downtown area. As such, the City has been pleased with the bulb-outs and constructed four more in the downtown business district. The City is also very pleased with the current design for the covered bike parking and bulb-out.
Initially, some of the business owners along this street were not enthusiastic about the bulb-outs and bike parking due to the reduction of on-street car parking, but now they are quite supportive of these projects. In fact, Jim Bowey, former chair of the Bicycle/Pedestrian Advisory Commission, said that he has never heard any negative reaction after the implementations.
Results
Steve Rogers, retired Public Works director of the City of Corvallis, believes the project had a positive impact in the community. The bulb-outs help direct pedestrians to crosswalks, increase visibility of waiting pedestrians, and shorten the crossing distance. In addition, the bike racks are consistently full. In a surprise to all involved, the covered areas for bike parking have seen regular use as transit shelters by patrons of the bus service, some of whom thought that they were designed as transit stops. Although no specific data is available to measure the effectiveness of this project, anecdotal evidence supports the project's success in contributing to the safety of pedestrians in the downtown area.
Contact
Mary Steckel
Public Works Director
City of Corvallis Public Works
P.O. Box 1083
Corvallis, OR 97339
Phone: 541-766-6916
Fax: 541-766-6920
Email: mary.steckel@corvallisoregon.gov