Smart Traffic Signal System in Northern Virginia
Reston, Virginia
Source: Pedestrian and Bicycle Information Center (PBIC)
Problem
Population growth led to higher pedestrian traffic, requiring improvement of existing facilities and new pedestrian facilities.
Background
The Northern Virginia District (NOVA) of the Virginia Department of Transportation oversees a rapidly urbanizing sector, part of which is within the Washington, DC metropolitan area. Explosive growth contributed to congestion and increased demand for multi-modal planning. The NOVA District Smart Traffic Smart System project focused on improving pedestrian accessibility, particularly for persons with disabilities.
Solution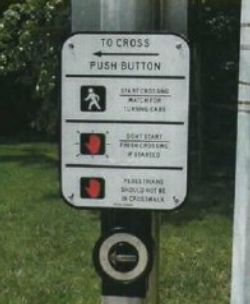 A pushbutton sign for the Smart Traffic Signal program. Image Source: Institute of Transportation Engineers Pedestrian Project Awards Application. Virginia Dept. of Transportation.
Project staff partnered with other departments to find equipment that met departmental goals for functionality and federal acceptability as defined in the Manual of Uniform Traffic Control Devices (MUTCD). Other core stakeholders were included in the process, including regional agencies and focus groups of persons with disabilities.
Five specific measures were chosen and implemented in the end. The first was the Rest-in-Walk Pilot Project in the planned, mixed-use community of Reston, VA. Reston Parkway, with an average of 29,000 vehicles per day, bisects the community and requires pedestrians traveling between several commercial village centers to cross a four-lane arterial road. At nine of the seventeen intersections, the walk indication displays were coordinated with the green signal, rather than requiring the pedestrian to activate it through a pushbutton system that resulted in up to a three minute wait. The intent was to reduce the number of pedestrians illegally and dangerously crossing the street out of frustration. These intersections are also now being considered for accessible pedestrian signal installation.
Second, advanced pedestrian walk phasing was installed at a high-traffic intersection between an 8-lane arterial and a popular avenue. The advance display for the walk indication gives time for pedestrians to establish their presence in the crosswalk before being overtaken by right turning vehicles.
Third, a pedestrian countdown signal was installed at a busy regional hub for subway and bus transit. Fourth, an Accessible Pedestrian Signal (APS) featuring a locator tone, vibration and a verbal message indicating in which direction to cross for visually impaired persons was also installed. The location of the pushbutton was also moved to be more accessible. Due to strict demands for
federally approved equipment, such improvements were previously not possible, and the project included efforts to break down institutional barriers. Three additional intersections are now identified to receive the same improvements.
The last measure undertaken was the installation of signing placards along an intensive business corridor spanning the length of Fairfax County. The eighteen placards clearly explain pedestrian signal operations to the diverse pedestrian population living along the corridor.
Results
Constituents were pleased with the results of the initiatives, and several citizens were quoted as saying that the improvements have "made it much safer to get across." Costs associated with the project were minimal, and more key intersections are scheduled for the future. Institutional barriers to implementing federally unapproved Accessible Pedestrian Signaling were relaxed to allow for more creative problem-solving.
Contact
Virginia Department of Transportation
Northern Virginia District
14685 Avion Parkway
Chantilly, VA 20151-1104
(703) 383-8368