PBIC's website gets a facelift
The Pedestrian and Bicycle Information Center streamlined and consolidated its websites under http://www.pedbikeinfo.org. The new site merged content from walkinginfo.org and bicyclinginfo.org into one, user-friendly site with a fresh look.
PBIC reorganized the information under five major headings: Data and Resources, Community Support, Planning and Design, Training and Events, and Programs and Campaigns, to make it easier for all users to access the information they are looking for. We improved site functionality through a new navigation system that uses drop down menus for each of the five headings.
During the redesign process, we updated the website content with new resources so that pedbikeinfo.org remains the most comprehensive clearinghouse for pedestrian and bicycle research, data, and other information.
Check out the new website at http://www.pedbikeinfo.org.
---
PBIC's next webinar to cover statewide Complete Streets efforts
The PBIC's April webinar offers a look at how States are implementing Complete Streets policies. The webinar will feature an overview of Complete Streets efforts from the National Complete Streets Coalition as well as discussions from Complete Streets coordinators in North Carolina, Washington, and Minnesota.
The webinar will be held at 2 p.m. on April 10. For information and to register, check http://www.pedbikeinfo.org/webinars.
---
PBIC to offer webinar series on Creating Livable Communities through Public Involvement
The PBIC will offer a three-part webinar series on Creating Livable Communities. The series is based on the PBIC's one-day in-person training course, which is designed to help government-sponsored boards and commissions; advocacy-, business-, and neighborhood-based groups; and individuals work together to create more livable communities.
The free webinar series will cover:
What makes a livable community.
The roles and responsibilities of stakeholder groups.
Opportunities for public involvement in identifying areas for improvement.
Creating public-supported policies, programs, and projects.
Success stories from several communities.
The webinar series will start in May, with installments coming monthly. Check http://www.pedbikeinfo.org/webinars for information on dates and times and how to register.
---
Get ready for Bike to School Day
The third annual National Bike to School day is May 7, 2014. The national event, promoted by the National Center for Safe Routes to School and the U.S. Department of Transportation, is part of an effort to create safe routes for students to bicycle to school and to encourage more children and families to turn to pedal power as a healthy way to commute to school.
More than 1,700 schools across the country participated in 2013. Learn how to host a Bike to School Day event or register your school's event at http://www.walkbiketoschool.org.
---
New bicycle safety curriculum available for PE teachers
The American Alliance for Health, Physical Education, Recreation, and Dance released Bikeology, a bicycle safety curriculum for middle and high school physical education teachers. The two-part program, which complies with the National Standards for K-12 Physical Education, offers lessons on bicycle skills and what students need to know to be safe bicyclists.
The National Highway Traffic Safety Administration funded the curriculum. It is available for free at http://www.aahperd.org/whatwedo/prodev/bikeology-curriculum.cfm.
---
Featured Case Study: Pedestrian Improvements at Jackson Avenue and the Pulaski Bridge
Problem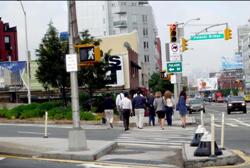 New crosswalk at Jackson Avenue at Pulaski Bridge.
The Pulaski Bridge is a major connector between Queens and Brooklyn. The intersection of Jackson Avenue, 11th Street, and 49th Avenue is located at the base of the bridge in Queens. This intersection experienced heavy traffic volumes, a record of vehicle occupant injuries, and a history of complaints about pedestrian crossings. Northbound traffic from the bridge presented challenges for pedestrians in the east crosswalk because vehicles made double right turns from a service road, as well as from the main road, during different signal phases. There was no crosswalk on the south side of the intersection at the base of the bridge, yet pedestrians crossed because of a high volume bus-to-subway transfer along this desire line. It was also important to create safe pedestrian crossings in the area because recent zoning changes led to more foot traffic.
Background
The intersection in the neighborhood of Long Island City served a growing residential and business population and divided two vibrant parts of the neighborhood, historic Hunters Point to the west and the newer Jackson Avenue Arts District to the east. It had been recently rezoned to encourage additional residential density because of its access to transit.
The intersection was designed when the surrounding area was largely devoted to manufacturing. As the area became more residential, people in the neighborhood began to request better pedestrian crossings. Additionally, the New York State Department of Transportation (DOT) sponsored a Designing for Pedestrian Safety training workshop for city and State planners and engineers that focused on this location. In response to the community's concerns and with insights from the workshop, the DOT developed a plan and proposed it to the Queens Community Board 2 Transportation Committee, which supported the changes.
Solution
To simplify the intersection and eliminate conflicts from the east crosswalk, all right turns from the bridge were guided to the service road, which allowed for a signal-protected east crosswalk. A new crosswalk was added on the south side of Jackson Avenue at the base of the bridge. The new crosswalk included three median refuge islands, two of which were landscaped and all of which were expansions of existing concrete medians.
Additionally, the right turns from the bridge service road were given the same phase as the left turns going onto the bridge reducing conflicts for the new south crosswalk. These changes allowed pedestrians to easily move between a bus stop and a subway station for the No. 7 line, as well as access the only sidewalk on the bridge on its west side. The block of 49th Avenue nearest the bridge was converted from a two-way to one-way street to reduce conflicts. On Jackson Avenue, the two approaching, shared westbound lanes were converted to two left-turn-only lanes and one through lane with one receiving lane on the far side to allow for a median.
Results
The changes improved pedestrian safety, circulation, and access. They also clarified vehicular movements for vehicle occupant safety. Traffic was managed with simplified lane configurations and a new signal phasing plan. The intersection has been brought into a neighborhood scale with improved conditions for motorists, as well as pedestrians. Travel times for westbound vehicles on Jackson Avenue decreased by 29 percent in the morning peak time and 23 percent in the evening peak time. While there were no statistically significant decreases in crashes in the project area, no bicycle or pedestrian injuries were recorded in the 17 months after implementation. With the improvements in pedestrian connectivity and safety, this area of Queens has been configured to better accommodate future pedestrian growth.
Contact
For additional information on pedestrian projects in New York City, visit the following sites:
http://www.nyc.gov/html/dot/html/home/home.shtml
http://www.nyc.gov/html/dot/html/sidewalks/pedestrian_projects.shtml
---
New Resources
The following resources have been recently added to the PBIC Online Library, a centralized, Web-based collection of pedestrian- and bicycling-related materials. To search the library, please visit www.walkinginfo.org/library or www.bicyclinginfo.org/library.
"Advancing Transportation and Health: Approaches from the Federal Safe Routes to School Program that Offer Broad Application" http://www.saferoutesinfo.org/sites/default/files/transportation_health_v2.pdf
"Pedestrian Hybrid Beacon Guide: Recommendations and Case Study"
http://safety.fhwa.dot.gov/ped_bike/tools_solve/fhwasa14014/
"Are Bikeshare Users Different from Regular Cyclists?"
http://www.pedbikeinfo.org/data/library/details.cfm?id=4889
"Pedestrians' Valuations of Footpaths"
http://www.pedbikeinfo.org/data/library/details.cfm?id=4888
"Bicycle-Friendly Cities – The Relevance of Urban Form and Infrastructure"
http://www.pedbikeinfo.org/data/library/details.cfm?id=4887
"Development of a Navigation System Using Smartphone and Bluetooth Technologies to Help the Visually Impaired Navigate Work Zones Safely"
http://www.pedbikeinfo.org/data/library/details.cfm?id=4886
"Human Factors Assessment of Pedestrian Roadway Crossing Behaviors"
http://www.pedbikeinfo.org/data/library/details.cfm?id=4885
"Comprehensive Study to Reduce Pedestrian Crashes in Florida"
http://www.pedbikeinfo.org/data/library/details.cfm?id=4884
"Perceptions of Bicycle-Friendly Policy Impacts on Accessibility to Transit Services"
http://www.pedbikeinfo.org/data/library/details.cfm?id=4883
"Effect of Gate Skirts on Pedestrian Behavior at Highway-Rail Grade Crossings"
http://www.pedbikeinfo.org/data/library/details.cfm?id=4882
---
Announcements
Safety Notices of Proposed Rulemaking
The Federal Highway Administration (FHWA) published two notices of proposed rulemaking in the Federal Register in March 2014 related to Transportation Performance Management. The first proposed rule sets forth safety performance measures under MAP-21. The second addresses proposed updates to the Highway Safety Improvement Program (HSIP). A third notice in April 2014 will deal with updates to the statewide and metropolitan and nonmetropolitan planning regulations.
These notices are among the first of three sets of proposals to implement MAP-21 performance management provisions for the Federal-aid highway program. The second set of performance-related NPRMs will focus on pavement, bridges, and asset management; the third will focus on system performance, congestion, emissions, freight, and public transportation.
These rules collectively advance the vision of Congress to transform Federal-aid programs to provide more efficient investments by focusing on national transportation goals; increasing accountability and transparency; and improving transportation investment decision-making. FHWA expects that this increased level of accountability will result in improvements in decision-making that will more directly link investments to desired performance outcomes.
Comments on the proposed safety performance measures are due June 9; comments on the proposed HSIP updates are due May 27, 2014.
FHWA Livable Communities Discussion Board
The Livable Communities Discussion Board is an online public forum for users to participate in discussion threads and engage with colleagues on questions and ideas related to livable communities. The site is an online community of practitioners in public, private, and nonprofit agencies and organizations at the local, State, and Federal levels, who are interested in helping communities provide more transportation choices, encourage access to good jobs and affordable housing, support quality schools, and promote safer streets and roads.
Register at https://www.transportationresearch.gov/dot/fhwa/SitePages/register.aspx to post questions and contribute to the discussions. Examples discussed may be considered for possible case study topics as part of the FHWA's Livable Communities case study series.
Human Environment (HE) Digest
The FHWA announced the launch of the Human Environment (HE) Digest. The HE Digest is a weekly electronic compilation of the latest announcements and resources pertinent to the human environment. It will be emailed every Thursday starting April 3rd. The HE Digest is provided in the interest of information sharing for all, Federal and non-Federal, practitioners interested in learning more about livable, active, equitable, safe, and healthy communities. Register at http://bit.ly/1dcuUhi to receive the HE Digest.
FHWA expands guidance on pedestrian hybrid beacons
The FHWA strongly encourages the use of pedestrian hybrid beacons (also known as the High intensity Activated crossWalK or HAWK). "Pedestrian Hybrid Beacon Guide: Recommendations and Case Study" expands on the FHWA guidance memo, detailed here: http://safety.fhwa.dot.gov/provencountermeasures/index.htm, and offers a case study of a location that successfully used PHB to solve a safety problem. Read the case study at http://safety.fhwa.dot.gov/ped_bike/tools_solve/fhwasa14014/.
FHWA issues interim approval for bicycle signals
FHWA approved bicycle signal faces on an interim basis. The signals are commonly referred to as "IA-16" by users of the Manual of Uniform Traffic Control Devices. More information can be found at: http://mutcd.fhwa.dot.gov/res-interim_approvals.htm.
FHWA releases new guide on maintaining pedestrian facilities
"A Guide for Maintaining Pedestrian Facilities for Enhanced Safety" offers a comprehensive guide for maintaining pedestrian facilities with the goal of ensuring pedestrian safety. The guide covers common maintenance issues, maintenance measures, construction techniques to reduce maintenance needs and funding opportunities. The guide can be downloaded at: http://safety.fhwa.dot.gov/ped_bike/tools_solve/fhwasa13037/.
IBPI offers new bike plan training opportunities
The Initiative for Bicycle and Pedestrian Innovation (IBPI) is offering two versions of its popular week-long Comprehensive Bike Design & Engineering course. The original 1.0 version of the course is intended for people who are working to implement their first major bicycle master plan, while the 2.0 version is aimed at those continuing to work on implementing bicycle facilities and moving their community into the next phase of bicycle friendliness. Learn more at http://bit.ly/1gnFClb.
League of American Bicyclists report details how State funding is allocated to bicycle and pedestrian facilities
"Lifting the Veil on Bicycle and Pedestrian Spending" is a new report that chronicles how States plan to spend Federal dollars on pedestrian and bicycle facilities. Access the report at: http://bikeleague.org/content/new-report-lifting-veil-spending.
Survey seeks to build better picture of efforts to increase walking
EveryBody! Walk Collaborative Partners and America Walks are surveying walking advocates and enthusiasts to get a better understanding of what efforts are being made across the country to promote and encourage walking. You can access the survey at http://americawalks.org/help-us-identify-walking-efforts-in-the-us/.
Webpage catalogs value of speed reduction on health
Health Resources in Action has compiled a new webpage focused on the connection between reducing speed and improving public health. The page features a variety of research papers and case studies. Learn more: http://hria.org/resources/reports/community-speed-reduction/2013-resources-speed-reduction.html
---
From our Facebook Page
Here are some of the more popular posts from the past few months:
March 18, 2014: Here is an interesting look at how Florida's efforts to improve pedestrian safety have impacted national pedestrian crash rates:
http://www.fastcoexist.com/3027397/fewer-cars-are-killing-pedestrians-thanks-apparently-to-florida
March 10, 2014: Here is an interesting perspective on how to get more people taking public transportation or walking or biking to work:
http://www.theatlanticcities.com/commute/2014/03/americas-cities-are-still-too-afraid-make-driving-unappealing/8564/
March 4, 2014: Here's another look at how Sweden has succeeded in its Vision Zero effort.
http://www.economist.com/blogs/economist-explains/2014/02/economist-explains-16?fsrc=scn%2Ftw%2Fte%2Fbl%2Fee%2Fwhyswedenhassofewroaddeaths
March 3, 2014: Check out how transportation planners in the U.K. are trying to accommodate bicyclists near bus stops:
http://www.cambridge-news.co.uk/Health/WalkRunCycle/Cycle/Floating-bus-stops-planned-for-Cambridge-trigger-safety-debate-20140226063000.htm
Feb. 27, 2014: Look at how Pittsburgh turned one street into a Ped/Bike avenue. And did you know that Pittsburgh is the host city to this year's Pro Walk/Pro Bike conference?
http://bikepgh.org/2014/02/24/from-car-traffic-to-people-traffic-this-pittsburgh-street-receives-a-road-shift/
Feb. 21, 2014: Protected Intersections for Bicyclists
http://vimeo.com/86721046
Feb. 18, 2014: Well, it looks like there is a bright side to all the snow so much of us have been getting. http://www.economist.com/blogs/babbage/2014/02/natural-traffic-control
Feb. 4, 2014: Check out how these Seattle Seahawks fans celebrating their team's Super Bowl victory waited for the walk signal before crossing. http://www.youtube.com/watch?v=Qo4z77OvznU
Jan. 27, 2014: Check out what the Austin, Texas police department is doing to raise awareness about safe passing laws. http://urbanvelo.org/austin-pd-leads-with-safe-passing-psa/
Jan. 24, 2014: Hamburg, Germany is planning to go car free in 2034: http://www.leftlanenews.com/hamburg-germany-to-ban-cars-in-2034.html
Jan. 13, 2014: Washington is the first State in the nation to adopt the new NACTO Street Design Guide: http://usa.streetsblog.org/index.php/2013/12/18/washington-dot-officially-adopts-nacto-street-design-guide/
Jan. 14, 2014: Vancouver is trying out new LED lights in an effort to brighten intersections and improve pedestrian safety: http://www.theprovince.com/City+testing+brighter+street+lights+riskiest+intersections/9360867/story.html
Dec. 12, 2013: Check out the Bike Pittsburgh's bicycle safety campaign: https://www.facebook.com/bikepgh
Like us on Facebook – http://www.facebook.com/pedbike – for the latest news and information about pedestrian and bicycle issues.
---
Upcoming Events
For more information on upcoming events, go to the PBIC's Conferences and Events page: http://www.pedbikeinfo.org/training/conferences.cfm
2014 American Alliance for Health, Physical Education, Recreation, and Dance National Convention and Expo (April 1, 2014)
http://www.aahperd.org/whatwedo/convention/
Open Streets National Summit (April 4, 2014)
http://openstreetsproject.org/blog/2014/01/27/register-for-the-open-streets-national-summit/
34th annual Conference of the International Association for Impact Assessment (April 8, 2014)
http://www.iaia.org/conferences/iaia14/
2014 International Transportation Economic Development Conference (April 9, 2014)
https://tti.tamu.edu/conferences/ited2014/
Global Health and Innovation Conference 2014 (April 12, 2014)
http://www.uniteforsight.org/conference/
National Association of County Engineers annual Conference 2014 (April 13, 2014)
http://www.countyengineers.org/events/annualconf/Pages/NACE2014.aspx
Fifth International Conference on Women's Issues in Transportation (April 14, 2014)
http://wiit-paris2014.sciencesconf.org/?lang=en
Fourth High-Level Meeting on Transport, Health, and Environment (April 14, 2014)
http://www.unece.org/thepep/en/hlm/hl4_info.html
Fourth International Conference on Roundabouts (April 16, 2014)
http://www.cvent.com/events/4th-international-conference-on-roundabouts/event-summary-2e5b6fd91dad4034b8060caa11f35315.aspx
Third International Conference on Transportation Infrastructure (April 22, 2014)
http://www.icti2014.org/
American Planning Association (APA) National Planning Conference (April 26, 2014)
http://www.planning.org/conference/
2014 Lifesavers Conference (April 27, 2014)
http://www.lifesaversconference.org/
2014 Bus and Paratransit Conference (May 4, 2014)
http://www.apta.com/mc/bus/Pages/default.aspx
2014 National Outdoor Recreation Conference (May 13, 2014)
http://www.recpro.org/2014-conference
WTS International annual Conference (May 14, 2014)
https://www.wtsinternational.org/networking/annual-conference/
PedsCount! 2014 (May 14, 2014)
http://californiawalks.org/projects/pedscount2014/
2014 National Main Streets Conference (May 18, 2014)
http://www.preservationnation.org/main-street/training/conference/2014-detroit/
Fourth International Safer Roads Conference (May 18, 2014)
http://www.saferroads.org.uk/
2014 International Transport Forum (May 21, 2014)
http://2014.internationaltransportforum.org/
Velo-city Global Conference (May 27, 2014)
http://www.velo-city2014.com/
20th International Conference on Urban Transport and the Environment (May 28, 2014)
http://www.wessex.ac.uk/14-conferences/urban-transport-2014.html
22nd Congress for the New Urbanism (June 4, 2014)
http://www.cnu.org/cnu22
National Association of Regional Councils 48th annual Conference and Exhibition (June 8, 2014)
http://narc.org/events/conferences/annual-conference-and-exhibition/
51st International Making Cities Livable Conference (June 8, 2014)
http://www.livablecities.org/conferences/51st-imcl-conference
American Society of Highway Engineers 2014 National Conference (June 12, 2014)
http://2014conference.ashe.pro/
2014 North American Travel Monitoring Exposition and Conference (June 29, 2014)
http://www.cvent.com/events/natmec-improving-traffic-data-collection-analysis-and-use/event-summary-1dbfb7ac4c1848939d04579344615323.aspx
---
---