PBIC names three new Walk Friendly Communities, promotes Charlottesville to Gold
The Pedestrian and Bicycle Information Center named three new Walk Friendly Communities (WFC) and one new designation. Boulder, CO; Charlottesville, VA; and Denver, CO each earned Gold-Level designations while Lakeland, FL earned a Bronze designation. Charlottesville was previously named a Silver-level community in the program's first round.
"These four cities present a very interesting picture of how cities are striving to be more walkable," said Carl Sundstrom, WFC program manager. "Charlottesville has made some great improvements since being named a Silver-level community in our first round of the program. At the same time, Boulder and Denver show how two cities separated by just 30 miles can take different approaches to being pedestrian friendly based on their unique challenges."
The Walk Friendly Community designation is given to applicant communities that have demonstrated a commitment to improving and sustaining walkability and pedestrian safety through comprehensive programs, plans and policies. The program evaluates conditions for walking and provides feedback and ideas for promoting pedestrian safety and activity.
There are now 47 Walk Friendly Communities across the nation. To date, Seattle, WA remains the only Platinum-level Walk Friendly Community.
The program will begin accepting applications for the ninth round on November 1, 2014, with the deadline for submission on December 15, 2014. Interested communities are encouraged to visit www.walkfriendly.org to learn more about the program and review the community assessment tool.
---
FHWA releases Bicycle Safer Journey
The Federal Highway Administration released Bicycle Safer Journey, a new tool to educate teens and children about safe bicycling behaviors.
Bicycle Safer Journey is a free, online education tool designed to help educators, parents, and others who care about bicycle safety to get the conversation started with children and youth.
The modules provide the information and education needed to help children and teens become safer bicyclists. The resource consists of three videos — one for each of three age groups: 5-9, 10-14, and 15-18 — accompanied by a quiz or discussion and an educator's resource library. The tool can be used as an introduction to bicycle safety skills or to augment a comprehensive curriculum. The age-appropriate videos, which are available in English and Spanish, address picking the safest places to bicycle and the importance of being alert.
Bicycle Safer Journey is the second part of FHWA's effort to better inform children and teens about safe non-motorized travel. FHWA released Pedestrian Safer Journey in 2013 to offer similar educational tools directed toward walking.
To access Bicycle Safer Journey, go to www.pedbikeinfo.org/bicyclesaferjourney.
---
FHWA releases its 2014 Nonmotorized Transportation Pilot Program report
The Federal Highway Administration provides an update of its Nonmotorized Transportation Pilot Program in its 2014 report. The report further analyzes how Columbia, MO; Marin County, CA; Sheboygan County, WI; and Minneapolis, MN have used $25 million in Federal funding to expand nonmotorized transportation options since 2005.
Among the notable results, the pilot program communities saw a 22.8 percent increase in walking trips and a 48.3 percent increase in bicycling trips between 2007 and 2013. Access the complete report at www.fhwa.dot.gov/environment/bicycle_pedestrian/ntpp/2014_report/page00.cfm.
---
Featured Case Study: School Zone Traffic Calming: Portland, Ore.
Problem
Through its routine technical analysis of pedestrian safety around Portland's public schools, the City's Traffic Calming program proactively identified Sabin Elementary School as a high priority for intervention. In particular, safety issues existed at two arterial streets that many of the children crossed while walking and bicycling to the school.
Background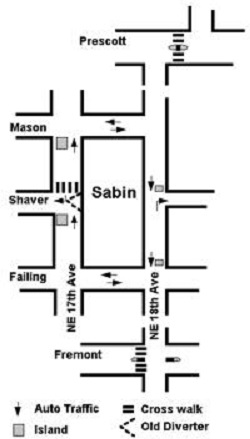 More than 500 children attend Sabin Elementary School. The school is located in an older, predominantly low- to middle-income neighborhood that is experiencing some revitalization. The neighborhood is generally well-served by a traditional grid street pattern, with both north-south and east-west arterials well-spaced among the narrower residential streets in the grid. However, the school itself is not located on an arterial street.
In 1997, the Portland Traffic Calming Program (TCP) undertook a School Safety Project on the streets adjacent to Sabin Elementary School to improve student pedestrian safety. After initial discussions with the school staff, parents, and neighborhood residents, it became clear that those using the school every day had identified additional traffic safety hazards that TCP assessment had not identified, including school-related bus and auto traffic congestion directly in front of the school and on its surrounding streets. Parking also posed a problem as parents parking in no-parking zones to drop-off or pick-up their children blocked the view of kids crossing the street to and from school.
Solution
To start the planning process, City staff convened the Sabin School Safety Committee. The committee was made up of various stakeholders from the community, including the school principal, interested persons from the community, and representatives of the Sabin School PTA, Site Council, Local School Advisory Committee, Portland Police, Portland Fire Bureau, and Sabin Community Association. The committee was particularly sensitive to the adverse effects of automobile congestion on pedestrian safety.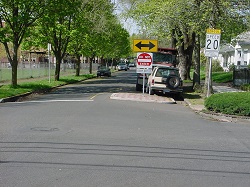 Traffic-calmed street near Sabin Elementary School.
Working together, the TCP staff and committee established goals for the school safety project, which included the overall goals of minimizing traffic congestion and enhancing the safety of younger pedestrians associated with the elementary school. Additionally, the committee adopted the specific objectives of decreasing speeds on 17th and 18th Avenues, improving visibility at 17th and Shaver, and improving crossing safety at the nearest arterial streets of Prescott and Fremont.
To achieve these objectives the committee proposed several strategies:
Installing semi-diverters on 17th and 18th would encourage a clockwise circulation pattern around the school. This would create predominant northbound traffic on 17th and southbound traffic on 18th in the two-block region between Mason and Failing Streets. Speed bumps on 17th and 18th, between Mason and Failing, would mitigate an expected increase in speeding due to the clockwise circulation.
Modifying parking restrictions on the west side of 18th between Mason and Failing.
Removing an older semi-diverter at 17th and Shaver and adding a crosswalk to make it easier for pedestrians to cross the street.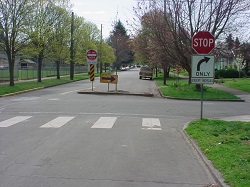 Pedestrian refuge islands were added at the school crosswalks on both Prescott and Fremont Streets near 18th Avenue.
Residents around Sabin Elementary were invited to an open house to review and comment on the proposed project. The open house was converted into a regular community forum for discussing the project and obtaining citizen input.
Some people expressed concerns during neighborhood meetings that the modification of the traffic would force drivers to shift to adjacent streets, increasing the traffic volumes on these streets to unacceptable levels. Some people also had concerns that the devices would not be effective in modifying the behavior of parents and guardians and the clockwise pattern might actually result in more speeding.
The city installed test diverters for three months before follow-up data was collected. In February 1998, the city mailed advisory ballots to residents and non-resident property owners on the affected streets. To ensure that a sufficient number of the affected residents expressed their opinion regarding the construction of permanent structures, committee members circulated a second ballot. Out of 41 affected properties, 30 responses were obtained and 22 favored permanent construction.
The City of Portland paid for construction costs by using funds budgeted for neighborhood traffic calming. The total cost for the project was $54,000. A project breakdown follows:
Traffic Diverters and Circulation around the school, $25,000
Improvements at 17th and Shaver, $5,000
Fremont Crossing Improvement, $16,000
Prescott Crossing Improvement, $ 8,000
Results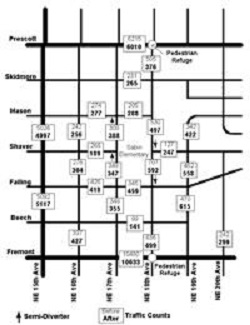 Because traffic diverters were installed, traffic volume data was collected from several streets that are parallel to the streets around Sabin Elementary. This data collection provides a better picture of what effect diversion had on the general neighborhood.
The Sabin Elementary School Safety Project has succeeded in meeting its primary goals. Traffic flow around the school has been changed from a two-way pattern to a predominantly clock-wise pattern. The potential for two-way traffic conflict, where space exists for only one vehicle, has been significantly reduced. This change also allows pedestrians to cross only one direction of traffic at a time instead of trying to negotiate two separate flows.
As a result of testing the diverters, it was determined that speed did not increase as feared, so speed bumps were eliminated from the project. Vehicle speeds remain similar to pre-project measurements. On 17th Street, 85th percentile speeds changed from 26.5-27.5 mi/h south of Shaver, and from 28-26 mi/h north of Shaver. On 18th Street, 85th percentile speeds changed from 28 mi/h-22.5 mi/h south of Shaver, and speed remained at 25.5 mi/h north of Shaver.
Pedestrians also benefited from the removal of an older semi-diverter that obscured pedestrian visibility on 17th Avenue. The new diverter does not have the same intensity of landscaping that was the cause of the previous visibility problems.
Finally, median refuge islands were installed at two intersections on 18th Avenue to improve crossing safety on Prescott and Fremont Streets, the two major arterial streets surrounding the school. The primary benefit of median refuge islands is to allow pedestrians to concentrate on crossing one direction of traffic at a time. When a gap appears in the nearest lane, they can safely cross to the middle of the street, where they can shift their attention to traffic coming from the other direction. Refuges are also very helpful for the elderly, people with a variety of disabilities, or any pedestrian, because they help organize the crossing task into a simpler two-step process and provide some physical protection in the interim. This is especially important for elementary-aged children who are just learning to accurately judge the speed of oncoming vehicles, and are placed at serious risk when they are required to judge the speed of multiple vehicles from two directions and/or turning into the street at the intersection.
After implementation, the Sabin Elementary School principal discussed the project with several adjacent residents. They agreed that the new traffic pattern has reduced congestion and speeds at the opening and closing time of school. Parking has improved, and conflicts between buses and automobile traffic have been reduced. Overall, traffic calming at Sabin Elementary has enhanced street safety, livability, and pedestrian conditions.
Contact
Scott Batson, PE.
Portland Bureau of Transportation
1120 SW Fifth Ave, Suite 800
Portland, OR 97204
Phone: (503) 823-5422
Email:
scott.batson@portlandoregon.gov
More Information
www.pedbikeinfo.org/data/details.cfm?id=4860
---
New Resources
The PBIC has recently added the following resources to the PBIC Online Library, a centralized, Web-based collection of pedestrian- and bicycling-related materials. To search the library, please visit http://www.pedbikeinfo.org/library.
A Technical Guide for Conducting Bicycle Safety Assessments for California Communities
http://www.pedbikeinfo.org/data/library/details.cfm?id=4894
A Technical Guide for Conducting Pedestrian Safety Assessments for California Communities
http://www.pedbikeinfo.org/data/library/details.cfm?id=4895
---
Announcements
FHWA Human Environment Digest
The Federal Highway Administration (FHWA) Office of Human Environment initiated the Human Environment weekly email digest. The digest shares the latest information from a range of Federal and non-Federal sources, addressing transportation and its relationship to the human environment. Through this information exchange, FHWA hopes to foster dialogue at all levels and continue to further the state of the practice on these important topics. To view or subscribe to the digest, go to: http://www.fhwa.dot.gov/livability/he_digest/.
Groundbreaking report details pedestrian safety risks
"Dangerous by Design" is a new report from Smart Growth America and the National Complete Streets Coalition that details the safety issues pedestrians face across the country. See the report at:
http://www.smartgrowthamerica.org/documents/dangerous-by-design-2014/dangerous-by-design-2014.pdf
.
Registration is open for Walk to School Day 2014
The National Center for Safe Routes to School opened registration for the 18th Walk to School Day. Walk to School day is Wednesday, Oct. 8, 2014. Registration is free and provides schools with access to free, downloadable materials including stickers, certificates, and flyers.
http://www.walkbiketoschool.org/
More than 2,200 schools participated in Bike to School Day
The third annual Bike to School Day saw a record 2,222 schools participate, a 30 percent increase over 2013. Bike to School Day was held May 7, 2014.
http://saferoutesinfo.org/about-us/newsroom/3rd-national-bike-school-day-more-bikes-more-families-more-fun
New resource identifies funding sources for walking and bicycling projects
Advocacy Advance released a new report and online tool to help States identify funding for pedestrian and bicycling projects. The organization has identified more than 25 public revenue sources that States are using for walking and bicycling projects.
http://www.advocacyadvance.org/media/blog/new-resources-state-funding-sources-for-walking-and-biking-projects
Alliance for Biking & Walking released 2014 Benchmarking Report
The Alliance for Biking & Walking, along with the Centers for Disease Control and Prevention's Health Community Design Initiative, released its "Bicycling and Walking in the United States 2014 Benchmarking Report," which collects and analyzes data on bicycling and walking from all 50 States and 52 major cities.
http://www.bikewalkalliance.org/resources/benchmarking
New report measures value of protected bike lanes
Bikes Belong and Portland State University released a new study on the impact of protected bike lanes. "Lessons from the Green Lane, a Comprehensive Evaluation of Protected Cycling Facilities" includes information on ridership, safety, and the economic impact of protected bike lanes in six US cities.
http://otrec.us/project/583
National Recreation Trails
The Department of the Interior announced 21 new National Recreation Trail designations on June 6, 2013.
http://www.interior.gov/news/pressreleases/for-national-trails-day-secretary-jewell-national-park-service-director-jarvis-announce-21-national-recreation-trails-in-11-states.cfm
.
American Trails posted the 2014 designations at:
http://www.americantrails.org/nationalrecreationtrails/14nrts.html
.
CRT Annual Achievement Awards
The Coalition for Recreational Trails (CRT) presents
Annual Achievement Awards
each year recognizing trails making outstanding use of Recreational Trails Program (RTP) funds. The CRT is a federation of national and regional organizations that support funding through the RTP. Learn more at
http://www.americantrails.org/awards/CRTawards.html
.
APHA offers recommendations for improving pedestrian safety
The American Public Health Association identified five steps for making pedestrian safety a priority in neighborhoods. Check out the tips at
https://storify.com/APHA/five-tips-for-making-pedestrian-safety-a-priority
.
Access Board offers new ADA and ABA accessibility guides
The United States Access Board is producing a series of online guides on Americans with Disabilities Act and Architectural Barriers Act accessibility standards. The guides cover a range of requirements related to public accommodations, commercial facilities, and government facilities, among others.
The ABA guides can be found at: http://www.access-board.gov/guidelines-and-standards/buildings-and-sites/about-the-aba-standards/guide-to-the-aba-standards.
The ADA guides can be found at: http://www.access-board.gov/guidelines-and-standards/buildings-and-sites/about-the-ada-standards/guide-to-the-ada-standards.

---
From our Facebook Page
Here are some of the more popular posts from the past few months:
June 4, 2014: http://switchboard.nrdc.org/blogs/kbenfield/walking_to_work_correlated_wit.html
June 3, 2014: http://bikeportland.org/2014/06/02/groundbreaking-new-study-gives-big-thumbs-u-s-protected-bike-lanes-106714
May 31, 2014: https://www.facebook.com/photo.php?fbid=647780935307378
May 30, 2014: Boston is taking a fun and interesting approach to improve bicyclist safety: http://www.bostonglobe.com/metro/2014/05/20/after-use-yah-blinkah-cambridge-warns-bike-riders-wicked-smaaht/C3PUzskhXhn2aXkXSLDrmK/story.html
May 28: 2014: Here's another approach to figuring out how cyclists use transportation infrastructure: http://phys.org/news/2014-05-big-insights-bicycle.html
May 27, 2014: http://www.nytimes.com/2014/05/13/nyregion/de-blasio-looks-toward-sweden-for-road-safety.html
May 20, 2014: Have you seen how California re-purposed old streets into bicycling and walking trails? http://blog.sfgate.com/bicycle/2014/03/31/devils-slide-a-new-trail-on-a-well-worn-path/
May 13, 2014: People often wonder what they need to start bicycling. Well, here's a list of things you don't need: http://blogs.bicycling.com/blogs/everyday-rider/2014/05/08/6-things-you-don%E2%80%99t-need-in-order-to-start-biking/
May 9, 2014: The Cleveland suburb Lakewood, Ohio doesn't use school buses to get kids to and from school: http://www.citylab.com/cityfixer/2014/05/suburb-where-kids-actually-walk-and-bike-school/9013/
May 5, 2014: If you are wondering where to run or bike, this map can show you the most popular routes in your area: http://www.vox.com/2014/4/29/5664926/where-the-country-bikes-and-runs-in-maps
May 2, 2014: Listen to the PBIC's Charlie Zegeer in this Freakonomics report on pedestrian crashes: http://freakonomics.com/2014/05/01/the-perfect-crime-a-new-freakonomics-radio-podcast/
April 28, 2014: The Dallas Observer has an interesting look at the growing push to remove I-345: http://www.dallasobserver.com/2014-04-24/news/tearing-down-i-345-urban-renewal-dallas/full/
April 14, 2014: Walk Score's new ChoiceMaps provides a new way to measure how walkable a neighborhood is: http://blog.walkscore.com/2013/04/choicemaps-new-way-to-measure-neighborhoods/
April 10, 2014: Have you seen NHTSA's new ad to combat teenage texting while driving? https://www.youtube.com/watch?v=6oeCUM2Alaw
---
Upcoming Events
2014 Alternative Intersection and Interchange Symposium
July 20, 2014
Salt Lake City, UT USA
14th National Conference on Transportation Planning for Small and Medium-Sized Communities
July 21, 2014
Burlington, VT USA
Southeast Regional HIA Summit
July 30, 2014
Davidson, NC USA
2014 Global Level Crossing Safety and Trespass Prevention Symposium
August 3, 2014
Urbana, IL USA
ITE Annual Meeting and Exhibit
August 10, 2014
Seattle, WA USA
International Public Works Congress and Exposition
August 17, 2014
Toronto, ON Canada
National Conference of State Legislators 2014 Legislative Summit
August 19, 2014
Minneapolis, MN USA
2014 Governors Highway Safety Association Annual Meeting
September 6, 2014
Grand Rapids, MI USA
21st Intelligent Transportation Systems World Congress
September 7, 2014
Detroit, MI USA
Pro Walk / Pro Bike / Pro Place 2014
September 8-11, 2014
Pittsburgh, PA USA
Transportation and Federal Land Partnership Enhancing Access, Mobility, Sustainability, and Connections to the American Great Outdoors
September 15, 2014
Washington, DC USA
Rail~Volution 2014
September 21, 2014
Minneapolis, MN USA
---
---