FHWA offers new guide to help residents make their communities more walkable and bikeable
The Federal Highway Administration (FHWA) released its new "A Resident's Guide for Creating Safer Communities for Walking and Bicycling." This free guide offers a step-by-step guide for residents and community groups looking to improve pedestrian and bicyclist safety, access, and comfort.
The Resident's Guide is a comprehensive resource to assist residents, parents, advocates, and others in being effective leaders and partners when pursuing pedestrian and bicycling improvements.
The easy-to-use guide can help readers:
Identify, document, and communicate pedestrian and bicycle safety concerns.
Engage with a variety of groups and individuals to make improvements.
Explore various ways in which community members can be involved in implementing programs and changes.
Gain inspiration and ideas from more than a dozen success stories of other communities.
Find additional resources, including tip sheets and sample materials.
The guide is available for download at http://1.usa.gov/1uVrLqo.
The Pedestrian and Bicycle Information Center (PBIC) will host a webinar about the new guide at 1 pm Eastern on February 10, 2015. Check http://www.pedbikeinfo.org/webinars for updates on speakers and for registration links.
---
PBIC offering webinar on updated BIKESAFE
FHWA recently updated its Bicycle Safety Guide and Countermeasure Selection System, commonly known as BIKESAFE, to reflect the latest research and best practices surrounding bicycle safety design. BIKESAFE provides practitioners with the latest information available for improving the safety of those who bike. The online tools provide the user with a list of possible engineering, education, or enforcement treatments to improve bicycle safety and/or mobility based on user input about a specific location. The PBIC is offering a free webinar highlighting BIKESAFE's newest features and innovative countermeasures. Presenters include:
Tamara Redmon, FHWA Office of Safety
Carl Sundstrom, UNC Highway Safety Research Center
Dan Nabors, Vanasse Hangen Brustlin, Inc.
Peter Lagerwey, Toole Design Group
The webinar will be held from 2 to 3:30 pm Eastern time on Thursday, February 19, 2015. Registration will open soon. Be sure to check http://www.pedbikeinfo.org/webinars for registration links.
---
New PBIC paper covers how to crowdsource data for ped/bike planning
A new report from the PBIC, "Crowdsourcing Pedestrian and Cyclist Activity Data," highlights how researchers can use new technology and mobile applications to gain more information on travel patterns of bicyclists and pedestrians. The paper, produced under contract by Fehr & Peers, reviews existing crowdsourcing data resources and tools, their implications for pedestrian and bicycle planning and projects, and potential limitations and issues with the existing options, among other topics.
This new paper is part of the PBIC's ongoing White Paper series. Read the full report at: http://http://www.pedbikeinfo.org/cms/downloads/PBIC_WhitePaper_Crowdsourcing.pdf.
---
FHWA releases new Statewide Pedestrian and Bicycle Planning Handbook
The FHWA's Office of Planning released a new handbook designed to help State departments of transportation develop or update State pedestrian and bicycle plans. The "Statewide Pedestrian and Bicycle Planning Handbook" comprehensively covers the statewide planning process, from plan inception and stakeholder outreach to data analysis and implementation. Access the handbook at: http://www.fhwa.dot.gov/planning/processes/pedestrian_bicycle/pedestrian_bicycle_handbook/.
---
FHWA offers new Road Diet informational guide
FHWA's Office of Safety published a new "Road Diet Informational Guide." This Guide includes safety, operational, and quality-of-life considerations from research and practice and guides readers through the decision-making process to determine if Road Diets are a good fit for a certain corridor.
A classic Road Diet converts an existing four-lane undivided roadway segment to a three-lane segment consisting of two through lanes and a center two-way, left-turn lane. Road Diets improves safety by including a protected left-turn lane for midblock, left-turning motorists, reducing crossing distance for pedestrians, and reducing travel speeds that decrease crash severity. Road Diets were recently included in the Every Day Counts III initiative and this Informational Guide will provide necessary guidance to our partners as they implement this proven safety countermeasure.
The Road Diet Informational Guide can be found at: http://safety.fhwa.dot.gov/road_diets/info_guide/.
FHWA held a Road Diet webinar on January 8, 2015. The recording is available at http://connectdot.connectsolutions.com/p81zuxvtgln/; with the presentations available for download.
---
Strengthening Transportation Career Pathways: Youth Workforce Development Partnerships Youth Workforce Development Webinar and Fact Sheet
The U.S. Department of Transportation (USDOT) and the Corporation for National and Community Service (CNCS) held a Creating Access to Opportunity Webinar on December 9, 2014. This webinar provided an overview of transportation youth workforce opportunities and highlighted AmeriCorps and other Youth Service and Conservation Corps best practices, and implementation of MAP-21 section 1524. The USDOT encourages States and regional transportation planning agencies to use youth service and conservation corps to perform appropriate transportation-related projects, including bicycle and pedestrian projects and programs. The webinar recording is available at: https://connectdot.connectsolutions.com/p8bx5vfytej/. The DOT/CNCS Fact Sheet is posted at http://www.fhwa.dot.gov/environment/transportation_alternatives/guidance/cncs_service.cfm.
---
Join FHWA's Livable Communities Discussion Board
The Livable Communities Discussion Board is an online public forum for users to participate in discussion threads and engage with colleagues on questions and ideas related to livable communities. The site is an online community of practitioners in public, private, and non-profit agencies and organizations at the local, State, and Federal levels who are interested in helping communities provide more transportation choices, encourage access to good jobs and affordable housing, support quality schools, and promote safer streets and roads. Participants come from a range of fields, including transportation, land use, housing, environment, and economic development.
Register here to post questions and contribute to the discussions. Examples discussed may be considered for possible case study topics as part of the FHWA's Livable Communities case study series.
---
Sign up for weekly updates from FHWA's Office of Human Environment
Sign up to receive the Federal Highway Administration (FHWA) Office of Human Environment weekly email digest. This digest shares the latest information from a range of Federal and non-Federal sources, addressing transportation and its relationship to the human environment. Through this information exchange, FHWA hopes to foster dialogue at all levels and continue to further the state of the practice on these important topics. To sign up, go to https://public.govdelivery.com/accounts/ USDOTFHWAHEP/subscriber/new?topic_id=USDOTFHWAHEP_42.
---
Featured Case Study: Indianapolis Cultural Trail: Indianapolis, Ind.
Problem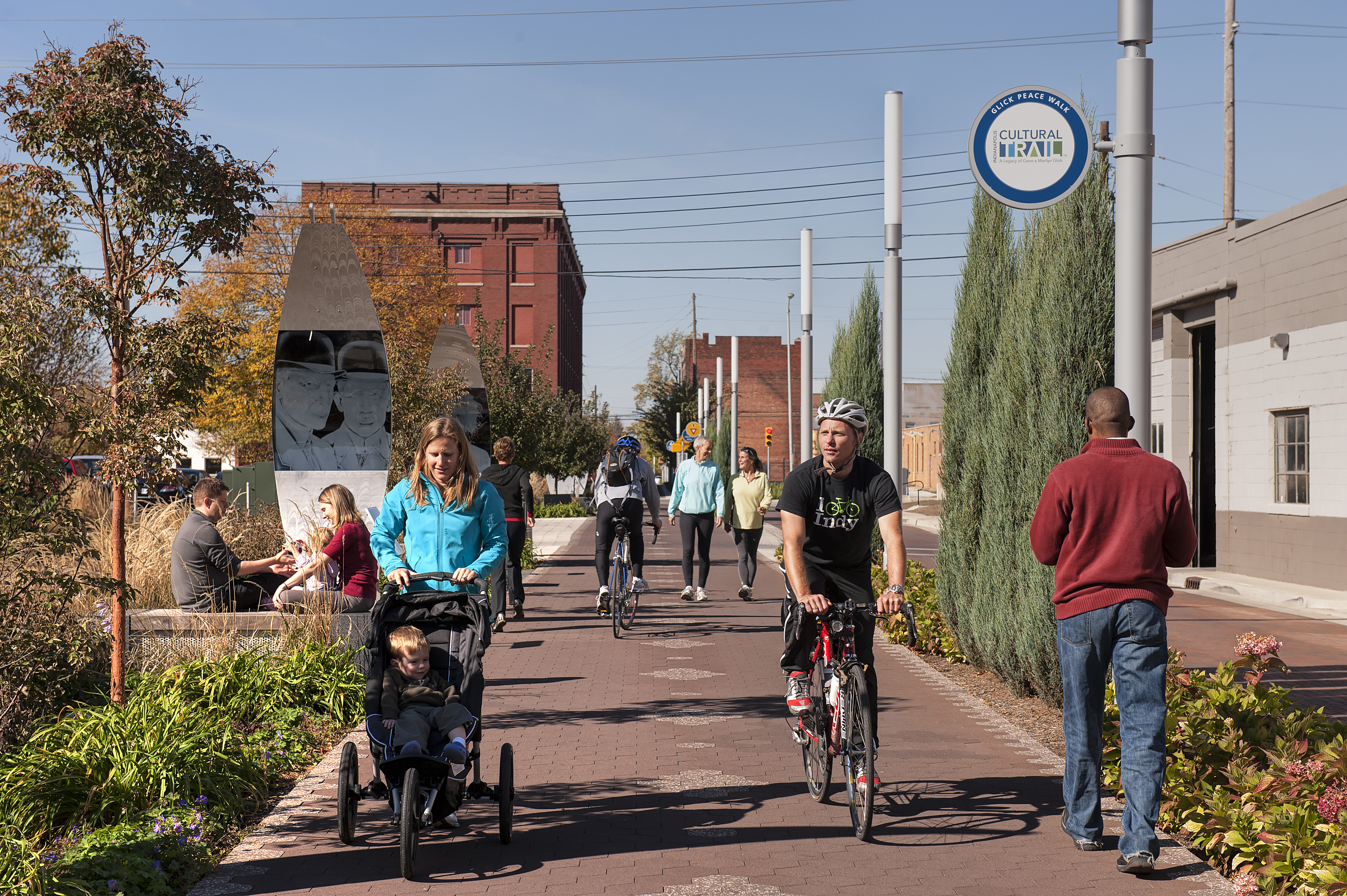 The ICT has brought a significant increase in pedestrian and bicycle traffic to downtown Indianapolis as people of all ages and abilities have embraced the trail.
Source: Indianapolis Convention and Visitors Association
Leaders in the city of Indianapolis, Indiana, wanted to make it easier for people to visit the city's cultural districts, which were disconnected from the heart of downtown and didn't get the attention they merited. In a city with a successful linear park and trail system, but no on-street bicycle facilities, one leader envisioned a bicycle and pedestrian trail through the heart of downtown Indianapolis. Twelve years later, the city, through a public-private partnership, completed the construction of an eight-mile, separated facility that forms a loop around downtown with spurs to connect five cultural districts and neighborhoods, as well as the city's greenway system.
Background
The Indianapolis Cultural Trail: A Legacy of Gene and Marilyn Glick was the big idea of Brian Payne, President and CEO of the Central Indiana Community Foundation (CICF); however, the trail's genesis was part of a broader effort to stimulate the city's economy and re-establish Indianapolis as a cultural center and destination. To accomplish this goal, Indianapolis Mayor Bart Peterson set out to define the city's unique cultural districts. As part of this initiative, Mayor Peterson vowed to deliver the city $5 million over the first five years of his term to support the Cultural Districts Program, which highlights key locations in the city's downtown. "[The cultural districts] had all these great historic buildings, galleries, [and] theaters that were doing so-so. The idea was to make something of them," said Payne.
Inspired by the Monon Trail, a converted railroad line that runs from the northerncounty line to downtown, Payne thought a similar trail in Indianapolis's urban center could provide the connectivity the cultural districts needed to thrive. Payne pitched the idea to the city's public works department and was told to "sell" the trail as a road diet.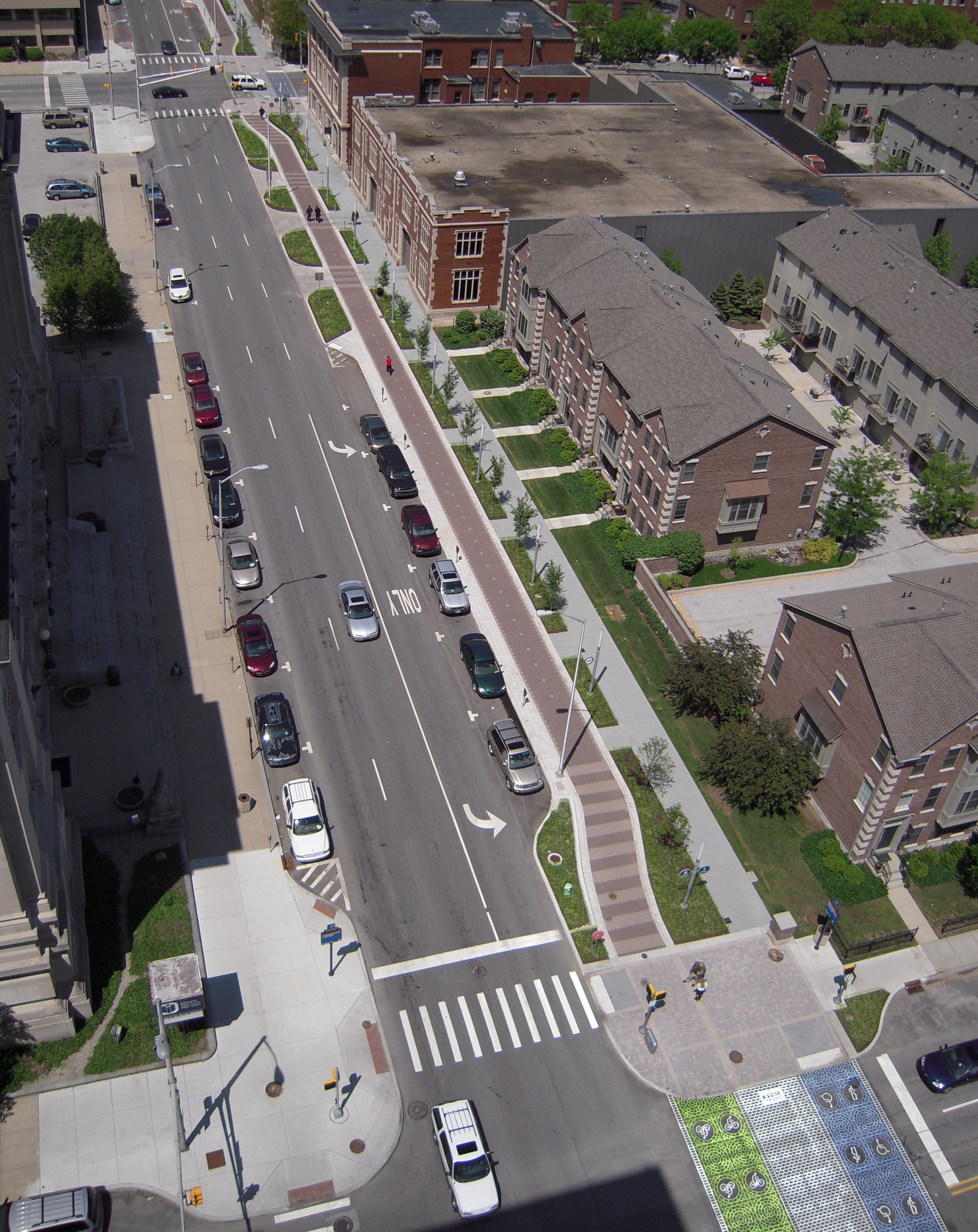 Aerial view of ICT demonstrating Complete Streets design approach: pedestrian path, two-way bicycle facility, crosswalks, specialized signals, and traffic calming at intersections.
Source: Rundell Ernstberger Associates, LLC
Indianapolis was already defined by its wide streets and arterials that were friendly to motorists, and this was problematic in the downtown where cars could travel upwards of 50 mph. Removing a lane in downtown Indianapolis was regarded as a way to lessen negative motorist behavior and provide the city with a new transportation amenity. To gather momentum for the project, after taking his position at CICF in 2000, Payne spent four years informally pitching the project to various Indianapolis officials, philanthropists, and community leaders. He conducted more than 100 one-on-one meetings. For Payne, it was imperative to have the financing and credibility from community leaders before bringing the project to the public. Philanthropic donations provided enough money for a feasibility study and a small charrette process, which helped get the Mayor's office onboard.
By 2006, Indianapolis was ready to hire two consultant teams, one for project management and one for the trail design. The project management team was brought on first to help represent the City of Indianapolis and Mr. Payne's vision of the project by overseeing the scope, schedule, and budget for the trail. The project management team also helped facilitate the selection of the design firm. Once the trail team was in place, they completed a more detailed feasibility study that identified the final route and provided accurate cost estimates. This study helped assuage concerns from the city's engineering department and provided valuable information for the team to share as they began the process to solicit input from residential, commercial, and institutional stakeholders.
Process/Solution
After the study was complete, the team's goal was to develop a pilot project as a proof of concept to show that a separated facility could work in Indianapolis's downtown. To guide the pilot project, the design consultants held a four-day workshop in June of 2006 to present the project to nearly 100 stakeholders including: city staff, elected officials, Indiana Department of Transportation, Federal Highway Administration (FHWA), local philanthropists, public safety officials, transit officials, business leaders, neighborhood leaders, and CICF staff. The invited stakeholders heard presentations about best practices for successful trail development and interacted with a gallery of potential trail materials and design concepts. The workshop provided an important forum for discussion and helped build a broad consensus for the trail, which was important for the development of its first stage. The FHWA Indiana Division office also provided needed support for the project during its development process. The project team met several times and consulted with the office regarding the National Environmental Policy Act (NEPA) process, as well as, the proprietary items architects and donors wanted to include in the project.
Continue reading about the Indianapolis Cultural Trail at: http://www.pedbikeinfo.org/data/library/details.cfm?id=4919.
---
New Resources
The PBIC has recently added the following resources to the PBIC Online Library, a centralized, Web-based collection of pedestrian- and bicycling-related materials. To search the library, please visit http://www.pedbikeinfo.org/library.
Cycling Infrastructure
http://www.pedbikeinfo.org/data/library/details.cfm?id=4917
Low Cost Interventions to Encourage Cycling
http://www.pedbikeinfo.org/data/library/details.cfm?id=4916
Road Diet Information Guide
http://www.pedbikeinfo.org/data/library/details.cfm?id=4915
Design Guidance for Channelized Right-Turn Lanes
http://www.pedbikeinfo.org/data/library/details.cfm?id=4914
Statewide Pedestrian and Bicycle Planning Handbook
http://www.pedbikeinfo.org/data/library/details.cfm?id=4913
Public Bike Sharing in North America During a Period of Rapid Expansion
http://www.pedbikeinfo.org/data/library/details.cfm?id=4911
Regional Rail-Trail
http://www.pedbikeinfo.org/data/library/details.cfm?id=4909
Identifying Risk Factors for Cyclists in the Australian Capital Territory
http://www.pedbikeinfo.org/data/library/details.cfm?id=4908
Moving an Age-Friendly DC
http://www.pedbikeinfo.org/data/library/details.cfm?id=4907
---
Announcements
Secretary Foxx Talks Livability with AARP
Following up on his announcement in September of a new bicycling and pedestrian initiative, "Safer People, Safer Streets,"
Secretary Foxx was interviewed
by the
American Association of Retired Persons (AARP)
on more specifics about the effort. The Secretary expanded on why this initiative is a priority for him and how it will impact older Americans.
Bicycle and Pedestrian Funding Update
FHWA posted revised bicycle and pedestrian funding information at www.fhwa.dot.gov/environment/bicycle_pedestrian/funding/.
Federal-Aid Highway Program Funding for Pedestrian and Bicycle Facilities and Programs - FY 1992 to 2014. This table shows bicycle and pedestrian obligations from Federal Fiscal Year (FY) 1992 through FY 2014.
Bicycle/Pedestrian Funding Opportunities. This table shows which kinds of bicycle and pedestrian projects and programs are eligible for US Department of Transportation funding programs.

FHWA releases new video on ped/bike efforts
FHWA created a new video to highlight how it is working with States and communities to improve conditions for walking and bicycle. View the video at:
http://www.transportation.gov/fastlane/fhwa-youtube-we-make-walking-biking-safer
.
Safe Routes releases brief on the role of comprehensive planning
The National Center for Safe Routes to School and the Safe Routes to School National Partnership released a new informational brief that "describes how integrating Safe Routes to School considerations into comprehensive planning can help define the local government's role in supporting safe walking and bicycling to school."
Download the brief at:
http://saferoutesinfo.org/sites/default/files/news/SRTS_brief_IntegratingCompPlan-FINAL.pdf
Don't forget about Bike to School Day
The National Bike to School Day will be May 6, 2015. Learn more about how to create a Bike-to-School Day event at
http://www.walkbiketoschool.org
.
America Walks releases new case studies on transportation and health
America Walks is offering three case studies on how communities in Iowa, Massachusetts, and Oregon have worked to improve through health through walking and walkable environments. You can access the case studies at:
http://americawalks.org/america-walks-releases-case-studies-on-healthy-communities/
.
RTC poll finds wide support for ped/bike investments
A recent poll by the Rails-to-Trails Conservancy found that 74 percent of likely voters in 2016 support increasing or maintaining current levels of Federal investment in walking and bicycling paths, compared to only 19 percent who support decreasing support. See more of the findings at:
http://www.railstotrails.org/resource-library/resources/2014-national-transportation-poll-toplines/
.
APBP announces its 2015 webinar schedule
The Association of Pedestrian and Bicycle Planners released its list of webinars for 2015. Learn more at: http://www.apbp.org/events/event_list.asp?show=&group=&start=4%2F11%2F2011&end=&view=& cid=4146.
Calls for Presentations
The American Public Health Association (APHA)and the National Walking Summit have issued calls for presentations for their 2015 meetings.
Walking Going Places, National Walking Summit 2015 is being held Oct. 28-30 in Washington, D.C. Proposals are due by Feb. 25, 2015. Learn more or download a proposal application at http://www.walkingsummit.org/#!proposals/c1n8o.
APHA is holding its annual meeting, Health in All Policies, from Oct. 31 to Nov. 4, 2015 in Chicago, IL. Proposals may be submitted Feb. 9 to 13, 2015. Learn more at https://apha.confex.com/apha/143am/oasys.epl.
---
From our Facebook Page
Here are some of the more popular posts from the past few months:
October 13, 2014: A group of cyclists in Latvia used piping to show how much space on the road bicycles use: http://www.demilked.com/automobile-bicycle-protest-lets-bike-it/
October 14, 2014: Here's a pretty cool way to combine cycling with learning: http://www.fastcoexist.com/3036607/this-school-has-bikes-instead-of-desks-and-it-turns-out-thats-a-better-way-to-learn
October 15, 2014: It will soon be much easier to commute from Dallas to Fort Worth by bicycle: http://keranews.org/post/64-mile-bike-superhighway-will-connect-fort-worth-dallas
October 20, 2014: Olympian Victoria Pendleton offers some tips to get into cycling: http://www.buzzfeed.com/catesevilla/queen-vic-cycling-tips#2s2iba7
October 29, 2014: Just building more roads won't reduce traffic, according to a new study: http://www.vox.com/2014/10/23/6994159/traffic-roads-induced-demand
October 30, 2014: Be sure to check out today's Diane Rehm show about cycling and sharing the road: http://thedianerehmshow.org/shows/2014-10-30/sharing_the_road_adapting_to_a_new_culture_of_cycling
November 4, 2014: The Netherlands is installing a solar bike lane that can power three homes: http://www.bbc.com/capital/specials/protection-now/environment/netherlands-unveils-world-s-first-solar-bike-lane_a-35-334.html
November 5, 2014: Learn about Boston's new requirements for trucks: http://www.boston.com/news/local/massachusetts/2014/10/29/how-boston-protecting-cyclists-one-truck-time/4RU6gX6V6OS1Uak1xpoaDN/story.html
November 7, 2014: This would be pretty cool: http://urbanful.org/2014/11/05/london-plans-new-965-million-floating-bike-path/?utm_source=Urbanful+Master+List&utm_campaign=b75220e8c5-November_7_Weekly_Subscribers&utm_medium=email&utm_term=0_fdf64fbc84-b75220e8c5-197294705
November 10, 2014: This new trail near Chicago is connecting neighborhoods and offering new areas for recreation, and it may spur redevelopment of abandoned buildings: http://www.citylab.com/commute/2014/11/the-economic-case-for-a-new-chicago-area-trail/382327/

November 13, 2014: Police in New Jersey dressed as Donald Duck on Halloween to enforce pedestrian crosswalk safety: http://www.nj.com/bergen/index.ssf/2014/11/ donald_duck_pedestrian_decoy_draws_criticism_in_fort_lee_report_says.html

November 21, 2014: Join us Dec. 4 for our next webinar on the new ActiveTrans Priority Tool for prioritizing bicycle and pedestrian facilities on existing roads.
December 5, 2014: Have you looked through FHWA's new Statewide Pedestrian and Bicycle Planning Handbook yet? http://www.fhwa.dot.gov/planning/processes/pedestrian_bicycle/pedestrian_bicycle_handbook/
December 9, 2014: The Burrard Street Bridge in Vancouver provides a great case study for how to successfully implement controversial bicycle facilities: http://www.citylab.com/politics/2014/12/after-a-series-of-failures-how-vancouver-finally-built-a-controversial-bike-lane/383272/
---
Upcoming Events
2015 Active Living Research Annual Conference
February 22-25, 2015
San Diego, CA USA

National Physical Activity Plan Congress
February 23-24, 2015
Washington, DC USA

2015 National Bike Summit
March 10-12, 2015
Washington, DC USA

Lifesavers: National Conference on Highway Safety Priorities
March 15-17, 2015
Chicago, IL USA

Moving Active Transportation to Higher Ground: Opportunities for Accelerating the Assessment of Health Impacts
April 13, 2015
Washington, DC USA

National Planning Conference
April 18-21, 2015
Seattle, WA USA
Sustainable Trails Workshops
May 15-16, 2015
Portland, OR USA
International Trails Symposium
May 17-20, 2015
Portland, OR USA
---
---