FHWA releases new guide on Separated Bike Lanes
The Federal Highway Administration (FHWA) published a new guide for designing separated bike lanes (also known as protected bike lanes or cycle tracks). The guide, "Separated Bike Lanes Planning and Design Guide," provides planning considerations for separated bike lanes and a menu of design options. The report also includes several case studies from across the U.S. highlighting best practices and lessons learned.
Separated bike lanes are common in Europe but are a new and an increasingly popular facility for enhancing bicycle traffic in the U.S. These lanes, designed specifically for bicyclists, use a buffer to provide separation between bicycles and motor vehicle traffic on roadways. The lanes can be one-way or two-way.
This new guide covers the current state of the practice but recognizes the need for design flexibility in implementing separated bike lanes. The report also cites future research needs to develop and refine design guidelines and techniques and to evaluate the performance of the lanes. As part of that effort, FHWA encourages municipalities that install such facilities to collect before and after data when installing the lanes.
The guide was developed by the UNC Highway Safety Research Center, Sam Schwartz Engineering, and Kittelson & Associates, Inc., with additional input from a technical working group that included representatives from cities, an MPO, State departments of transportation, the National Association of City Transportation Officials, the American Association of State Highway and Transportation Officials, the Institute of Transportation Engineers, and the League of American Bicyclists. It will help implement the Secretary's Safer People, Safer Streets initiative.
You can download the guide at www.fhwa.dot.gov/environment/bicycle_pedestrian/index.cfm after May 18, 2015.
---
FHWA kicks off Ped/Bike count program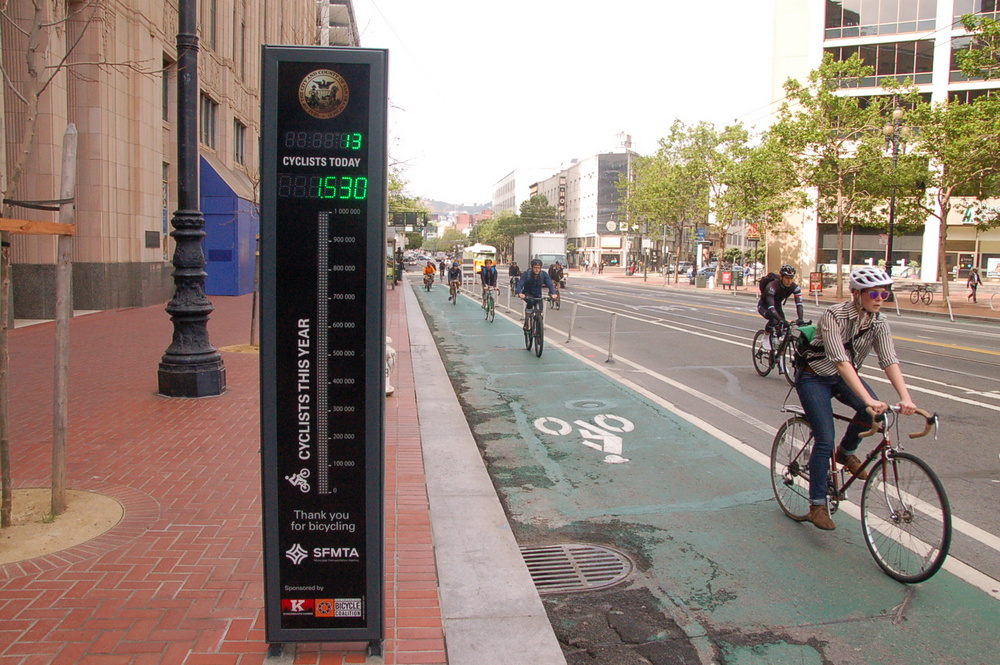 FHWA launched a new pilot program to help metropolitan planning organizations (MPOs) to use portable automatic counters for tallying pedestrians and bicyclists.
The one-year program, Bicycle-Pedestrian Count Technology Pilot Program, is providing funds to 10 MPOs to purchase equipment that they will use to collect counts at various locations within their MPO planning areas. In return, the MPOs will share their data and experiences with FHWA and other organizations. FHWA will use that information to inform new guidance on automated counting technology.
Throughout the program, the Pedestrian and Bicycle Information Center (PBIC) and FHWA will provide technical assistance on how to develop a count program and how to collect and analyze the data.
The MPOs participating in this program are:
Providence Metropolitan Planning Organization (Providence, Rhode Island)
Greater Buffalo-Niagara Regional Transportation Council (Buffalo, New York)
Richmond Regional Transportation Planning Organization (Richmond, Virginia)
Puerto Rico Metropolitan Planning Organization (San Juan, Puerto Rico)
Palm Beach Metropolitan Planning Organization (Palm Beach County, Florida)
Fresno Council of Governments (Fresno, California)
Indianapolis Metropolitan Planning Organization (Indianapolis, Indiana)
Ohio-Kentucky-Indiana Regional Council of Governments (Cincinnati, Ohio)
South-East Wisconsin Regional Planning Commission (Milwaukee, Wisconsin)
Memphis Metropolitan Planning Organization (Memphis, Tennessee)
This project is part of Transportation Secretary Anthony Foxx's "Safer People, Safer Streets" initiative to improve pedestrian and bicycle safety nationwide. Learn more at: http://www.transportation.gov/fastlane/when-it-comes-bike-ped-data-you-can-count-fhwa.
---
PBIC offers Design Resource Index for selecting ped/bike facilities
The Pedestrian and Bicycle Information Center and its partner, Toole Design Group, created a new Pedestrian and Bicycle Facility Design Resource Index to help planners and engineers determine which design guide to use for various facilities.
The Design Resource Index lists types of facilities across three areas: on-street bicycle facilities, shared use paths, and pedestrian facilities, and indicates which national resource manuals or guides cover them. The matrices include design guidance from FHWA, the Institute of Transportation Engineers (ITE), American Association of State Highway and Transportation Officials (AASHTO), National Association of City Transportation Officials (NACTO), and the U.S. Access Board.
The current version of the index is based on information available as of March 2, 2015. See: http://www.pedbikeinfo.org/planning/facilities_designresourceindex.cfm.
FHWA is asking users to provide observations and feedback as they use the index, including input on existing gaps in design guidance, research needs, and additional tools and resources that would help practitioners navigate between various design resources. Please email feedback to daniel.goodman@dot.gov.
---
NCDOTís Watch for Me NC Program grows in 2015
North Carolina's Department of Transportation (NCDOT) is adding nine new communities to its Watch for Me NC pedestrian and bicycle safety program for 2015. Since its initial pilot in 2012 in four communities, the campaign expanded to 18 communities stretching from the coast to the mountains.
Watch for Me NC offers a comprehensive approach to reducing bicycle and pedestrian crashes and fatalities in the Tar Heel State through a combined education and enforcement effort. The evidence-based effort is proving to be a model for how States can develop, obtain buy-in, evaluate, and fund such a program at the statewide level.
The approach to reducing pedestrian and bicycle crashes starts with educational outreach to inform motorists, pedestrians, and bicyclists of the State's pedestrian and bicyclist laws and important safety practices. That effort consists of radio public service announcements; ads on buses, billboards, and in gas stations along high crash corridors; and strategic public engagement by local coalitions through events and collaboration with schools, universities, and others.
That effort is followed by a targeted enforcement in areas with heightened risk for pedestrian and/or bicyclist crashes. A key to the program involves providing training to law enforcement officers on existing pedestrian and bicycle laws to protect pedestrian and bicyclist safety as well as how to actively enforce those laws, such as through targeted operations at crosswalks to improve driver compliance with yielding laws.
"Watch for Me NC is a successful model because the core messages are consistent across the State while local partners can customize outreach to meet their unique population," said NCDOT's Pedestrian and Bicycle Division Director Lauren Blackburn. "It is also an effective way to engage law enforcement and community advocates in a long-term approach to improve safety for pedestrians and cyclists."
What makes this program different from other statewide efforts is the targeted approach in its delivery. While Watch for Me NC is managed at the State level, it is implemented at the local level. The program works closely with a select group of partner communities, who are required to apply into the program each year. Communities must commit to disseminating safety information and materials, sending law enforcement officers to trainings, conducting enforcement efforts, and tracking all Watch for Me NC related efforts. Applicants also must provide letters of support from key community partners, such as school officials, district attorneys, advocacy groups, planning departments, etc., to demonstrate commitment from a broad coalition.
In return, participating communities receive safety materials, enforcement training, support, and technical assistance throughout the year. Communities also get recognition for their efforts to improve pedestrian and bicycle safety. To learn more about what communities are doing as part of the Watch for Me NC program, visit: http://watchformenc.org/about/2014-partner-community-profiles/.
The UNC Highway Safety Research Center is working closely with NCDOT to provide technical assistance and support with the program implementation. Learn more at http://www.watchformenc.org.
---
More than 210 cities join the Mayorsí Challenge
As of May 8, 2015, 216 cities have signed on to Transportation Secretary Anthony Foxx's Mayors' Challenge. The Challenge, part of the Secretary's "Safer People, Safer Streets" initiative to improve pedestrian and bicycle safety, calls for mayors and top elected officials to take a public stance to reduce pedestrian and bicycle crashes. The effort calls for cities to take action in seven areas:
Take a Complete Streets approach.
Identify and address barriers to make streets safe and convenient for all road users, including people of all ages and abilities and those using assistive mobility devices.
Gather and track biking and walking data.
Use designs that are appropriate to the context of the street and its uses.
Take advantage of opportunities to create and complete pedestrian and bicycle networks through maintenance.
Improve walking and biking safety laws and regulations.
Educate and enforce proper road use behavior by all.
The year-long Challenge kicked off with a summit in Washington, DC in March 2015. The DOT provided participating cities with self-assessment tools as well as worksheets to help develop actions to meet their goals in each of the Challenge areas. PBIC staff, representatives from a number of other pedestrian and bicycle stakeholder organizations, and Department of Transportation staff were on hand to provide technical assistance to participants during the summit.
Cities may join by emailing their team leader's contact information to pedbikesafety@dot.gov. Learn more about the Challenge at http://www.dot.gov/mayors-challenge.
---
Walk Friendly Communities seeks new applicants
The Walk Friendly Communities program is accepting applications for its 10th round of designations. The program, which recognizes communities that are committed to improving conditions for walking, is accepting applications from May 1st through June 15th.
Communities interested in applying can download an application at: http://www.walkfriendly.org/assessment/.
The program also recently named five new Walk Friendly Communities:
Evanston, IL (Gold)
Somerville, MA (Gold)
Sandpoint, ID (Silver)
Arcata, CA (Bronze)
Saratoga Springs, NY (Bronze)
Additionally, Lee's Summit, MO, which was named a Bronze-level community in 2011, earned a Silver-level designation.
"We're particularly excited to see the great strides made by Lee's Summit, allowing them to climb to the Silver level," said Carl Sundstrom, WFC program manager.
The Walk Friendly Communities program is administered by the PBIC and sponsored by FHWA and FedEx.
---
New report offers insight into determining the economic impact from ped/bike facilities
A new report from the FHWA, "Evaluating the Economic Benefits of Nonmotorized Transportation," is designed to help transportation officials determine the best methods for evaluating the economic value of their pedestrian and bicycle facilities.
The report, which includes case studies from Minneapolis, Toronto, New York City, and Vermont, discusses potential methods for evaluating different economic benefits, such as commute cost savings, tourism, societal coast savings, and health and environmental benefits. It includes a review of past economic impact studies and offers tools to help transportation officials select the appropriate method for evaluating the economic value of their projects.
See: http://www.pedbikeinfo.org/data/library/details.cfm?id=4926.
---
New Resources
The PBIC has recently added the following resources to the PBIC Online Library, a centralized, Web-based collection of pedestrian- and bicycling-related materials. To search the library, please visit http://www.pedbikeinfo.org/library.
Evaluating the Economic Benefits of Nonmotorized Transportation
http://www.pedbikeinfo.org/data/library/details.cfm?id=4926

Guidebook on Pedestrian and Bicycle Volume Data Collection
http://www.pedbikeinfo.org/data/library/details.cfm?id=4924
Pedestrian Safety Enforcement Operations: A How-To Guide
http://www.pedbikeinfo.org/data/library/details.cfm?id=4923
Toolbox of Countermeasures and Their Potential Effectiveness for Pedestrian Crashes
http://www.pedbikeinfo.org/data/library/details.cfm?id=4922
Crowdsourcing Pedestrian and Cyclist Activity Data
http://www.pedbikeinfo.org/data/library/details.cfm?id=4920
---
Announcements
PBIC hosting webinar on economic value of nonmotorized transportation
PBIC will hold a webinar on June 4 on how to evaluate the economic benefits of investing in nonmotorized transportation. The webinar is based on FHWA's recent recport: "Evaluating the Economic Benefits of Nonmotorized Transportation," whie documents several economic benefits of these investments and provides a resources for communities who are interested in measuring the economic impact of future projects. You can access the report at: http://www.pedbikeinfo.org/data/library/details.cfm?id=4926.
Presenters include Erica Simmons, with the John A Volpe Transportation Systems Center; Sean Quinn, from New York City's Department of Transportation; and Greg Lindsey, from the University of Minnesota.
See http://www.pedbikeinfo.org/training/webinars_PBIC_LC_060415.cfm for more information on the webinar and how to register.
PBIC and FHWA hosting webinar on conducing pedestrian safety enforcement
PBIC will hold a webinar on June 18 on how to conduct pedestrian safety enforcement operations. The webinar is based on the National Highway Traffic Safety Administration's (NHTSA) new "Pedestrian Safety Enforcement Operations: A Hot-To Guide," which was released in early 2015. The guide offers information about planning, conducting, and following up enforcement operations, as well as case studies highlighting successful programs from across the country.
Presenters include Wil Price, with NHTSA; Ranjit Walia, Civic Eye Collaborative LLC; George Branyan, Washington DC Department of Transportation; and Sergeant Richard Ruth, Orlando Police Department.

See http://www.pedbikeinfo.org/training/webinars_FHWA_enforcementguide.cfm for more information on the webinar and how to register.
Don't' forget National Bike Month
May is The League of American Bicyclists' National Bike Month. Learn more at: http://bikeleague.org/content/bike-month-dates-events-0
FHWA updates Transportation Alternatives Program Q&A
FHWA revised the "Transportation Alternatives Program (TAP) Questions & Answers to address questions and comments received from June 2013 through October 2014. The Q&A answers questions about suballocation, matching funds and transfers, flexibility of excess reserved funding, project eligibility, use of Recreational Trails Program funds, and priorities for Safe Routes to School projects. This Q&A supersedes and replaces the version from June 10, 2013.
Youth Service and Conservation Corps
MAP-21 Section 1524 requires the US Department of Transportation to encourage States and regional transportation planning agencies to use qualified youth service and conservation corps to perform appropriate transportation-related projects. See the Creating Access to Opportunity: Strengthening Transportation Career Pathways & Youth Workforce Development Partnerships Through Service Fact Sheet (HTML / PDF), the related Creating Access to Opportunity Webinar and the Webinar Slides (HTML / PDF), FHWA's Youth Corps Questions and Answers, and Youth Workforce Development Resources.
Smart Growth America report on Safer Streets, Stronger Economies
Smart Growth America recently published a report, "Safer Streets, Stronger Economies," that examines the economic benefits of investing in bicycle and pedestrian safety. The report analyzes 37 Complete Streets projects and found that, compared to conventional transportation projects, these projects were more affordable and may lead to higher employment and property values.
America Walks offers new webinar series
America Walks launched a new webinar series for advocates and professionals to learn how to build institutional and community support for walkable designs. The series, "Taking Action at the Local Level," features three webinars in April and May. Learn more at: http://americawalks.org/america-walks-launches-take-action-webinar-series/.
Join the National Bike Challenge
PeopleforBikes is launching its annual National Bike Challenge to get more people bicycling more often. The program encourages participants to log their miles bicycling. In 2014, more than 47,000 people logged more than 23 million miles. For 2015, the organization's goal is to log 35 million miles. Learn more at: https://nationalbikechallenge.org/.
PeopleForBikes releases "Building Equity" report
PeopleForBikes and the Alliance for Biking & Walking released "Building Equity: Race, Ethnicity, Class and Protected Bike Lanes," a 36-page "idea book for fairer cities." The book includes three main sections, including: profiles of different people of color advocating for protected bike lanes; national and international case studies that discuss the role of protected bike lanes; and a collection of statistics about the intersections of race, ethnicity, income, biking habits, and bike infrastructure.
Sign up for weekly updates from FHWA's Office of Human Environment
Sign up for FHWA's Office of Human Environment weekly email digest. This digest shares the latest information from a range of Federal and non-Federal sources, addressing transportation and its relationship to the human environment. To sign up, go to https://public.govdelivery.com/accounts/USDOTFHWAHEP/subscriber/new?topic_id=USDOTFHWAHEP_42
FHWA releases "FHWA Works" video on walking and bicycling safety
FHWA released the fourth "FHWA Works" video titled "FHWA Works: How the Federal Highway Administration Makes Walking and Bicycling Safer." The video illustrates how FHWA and its partners work together to make walking and biking more accessible and an integral part of livable communities.
FHWA releases Recreational Trails Program annual report
FHWA posted the 2014 Recreational Trails Annual Report. The report describes the Recreational Trails Program (RTP) and projects funded in Federal fiscal year (FY) 2013. It provides information about program funding and administration, the RTP database, and how States used funds. The report also illustrates eligible project types, documents the benefits of the program, and discusses national trends and issues affecting trails.
FHWA/FTA soliciting comments on revised environmental review process
The FHWA and FTA revised Section 139 Environmental Review Process guidance to reflect changes made in the Moving Ahead for Progress in the 21st Century Act (MAP-21). The FHWA and FTA are requesting public comments on the proposed guidance. Comments must be received by May 12, 2015.
2015 Environmental Excellence Awards
The Federal Highway Administration (FHWA) announced the 2015 Environmental Excellence Award recipients. The projects recognized span a wide range of professional disciplines, from historic preservation and water quality improvements to wetlands and habitat restoration.
http://www.fhwa.dot.gov/environment/environmental_excellence_awards/eea_2015/index.cfm
FHWA Livability Case Study: Connecting Bicycle and Pedestrian Networks in Billings, MT
The Federal Highway Administration (FHWA) published a case study highlighting the effort in Billings, MT to develop an extensive bicycle and pedestrian network. The City of Billings used a range of funding sources to build 35 miles of multi-use trails, 8 miles of connector trails, and 11.5 miles of on-street bicycle lanes. http://www.fhwa.dot.gov/livability/case_studies/billings/index.cfm
USDOT's Health in Transportation Working Group: 2014 Annual Report
The U.S. Department of Transportation's (USDOT) Health in Transportation Working Group released its annual report to outline its accomplishments in 2014 and discuss next steps for 2015. In 2014, the working group increased coordination with the Centers for Disease Control and Prevention (CDC) and created a "Strategic Initiative Framework for Health in Corridor Transportation Planning."

The Federal Highway Administration (FHWA) published an Environmental Justice Reference Guide on April 17th. This guide provides practitioners with a single reference to ensure compliance with environmental justice requirements when developing and evaluating FHWA projects. The guide does not establish any new requirements.

---
From our Facebook Page
Here are some of the more popular posts from the past few months:
March 24: Asheville, NC's $50 million revitalization project includes several pedestrian and bicycle facilities:
http://www.citizen-times.com/story/news/local/2015/03/21/asheville-river-arts-district-million-bones-obama-greenways-bike-lanes-whitewater-park-new-belgium-brewery-million/25156395/
March 23: Here's a good look at the social equity role of bicycle facilities:
http://www.citylab.com/commute/2015/03/drilling-down-to-the-real-role-of-bike-lanes-in-social-equity/388042/
March 18: Here are 12 reasons for why it makes "cents" to replace on street parking with bike lanes:
http://www.citylab.com/cityfixer/2015/03/the-complete-business-case-for-converting-street-parking-into-bike-lanes/387595/
March 11: If you were looking for another reason to justify new pedestrian and bicycle projects, here is a new report from FHWA discussing some of the potential economic benefits from investing in nonmotorized infrastructure:
http://www.pedbikeinfo.org/data/library/details.cfm?id=4926
March 2: Did you know that FedEx is a major supporter of the Walk Friendly Communities program? You can learn more about it on FedEx's blog:
http://about.van.fedex.com/blog/making-communities-walk-friendly/
February 25: So far 86 communities have signed up for DOT's Mayors' Challenge:
http://www.dot.gov/fastlane/mayors-challenge-closing-100-cities-yours
February 17: The State of Nevada is putting $10 million toward pedestrian safety improvements:
http://www.mynews4.com/news/local/story/10-million-going-toward-Nevada-pedestrian-safety/lQ4pmOgQIEWnFKMavXYxvA.cspx
January 22: This new study shows that taking a short walk around lunch time not only improves health but can make you more productive and better able to handle stress in the afternoon:
http://well.blogs.nytimes.com/2015/01/21/stressed-at-work-try-a-lunchtime-walk/
---
Upcoming Events
2015 International Trails Symposium
May 17-20, 2015
Portland, OR USA
Transit Initiatives and Communities Conference
June 1-3, 2015
Grand Rapids, MI USA
Velo-City 2015
June 2-5, 2015
Nantes, France
Annual Conference of Mayors
June 19-22, 2015
San Francisco, CA USA
2015 Rail Conference
June 21-24, 2015
Salt Lake City, UT USA
Institute of Transportation Engineers Annual Meeting and Exhibit
August 2-5, 2015
Hollywood, FL USA
Association of Pedestrian and Bicycle Professionals: Professional Development Seminar
September 28-October 1, 2015
St Louis MO USA
National Walking Summit
October 28-30, 2015
Washington DC USA
Designing Cities: Austin
October 28-31, 2015
Austin TX USA
---
---