Using Dero ZAP! to Count Cyclists in Downtown Minneapolis
Minneapolis, Minnesota
Source: Pedestrian and Bicycle Information Center (PBIC)
Background
Dero Bike Rack Company (Dero) was founded in 1995 in Minneapolis, Minnesota. Commuter Connection, a program of the Downtown Minneapolis Transportation Management Organization (TMO), was created in 1991 by the city council and is a public-private partnership between the City of Minneapolis and downtown businesses (1). They have developed a plan to employ one of Dero's newest products, the ZAP!, as part of an encouragement and evaluation program (2).
Problem
The TMO created Commuter Connection to serve employers and employees of downtown Minneapolis. They have a core interest in promoting the use of transit, biking, walking, vanpooling, and carpooling due to these modes' ability to support a "vital and growing downtown Minneapolis (3)" They offer advice to commuters on how they can incorporate these modes into their commute. They also work with employers and property owners to provide on-site promotion of alternative modes.
In 2010, Commuter Connection worked with downtown businesses to employ a State Health Improvement Program, a state-funded grant program to promote longer, better, healthier lives for Minnesotans (4), to provide bicycle education, rewards, and an assessment of the current bicycle and walk-friendliness of each participating worksite. As part of this program, employees of the six partner businesses were asked to log on to a website and track their commute trips in an effort to obtain valuable data for program evaluation. Commuter Connection found that this self-reporting method was unreliable as commuters were inconsistent in their reporting. They needed a solution for automatic tracking that did not require manual entry (5).
Solution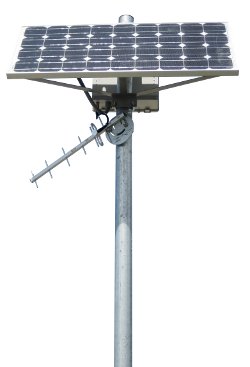 Image Source: Colin Klotzbach
Product Description: In 2009, Dero had received a request from the University of Minnesota to develop an accurate and reliable system to count bicycle usage. This request was the impetus for Dero to expand beyond their traditional offering of bike racks and develop a wireless, solar-powered device that tracks cyclists called the ZAP! (see Figure 2.0) (6).
How It Works: Cyclists attach a radio frequency identification tag (RFID) to their bicycle wheel (if removed, it becomes de-activated). The distribution of these tags differs in each application of the device, but typically an employer or other program administrator will distribute RFID tags to participants, usually charging only for replacement tags (about $15 or less). When the tag rolls within thirty feet of a ZAP! device placed on the worksite or city street (see Figure 2.0), the cyclist is counted. Data is sent from the solar-powered device to Dero's backend database every 50 minutes through a wireless connection.
Purpose: Data collected by the device is then incorporated into an encouragement program, whereby cyclists earn rewards points or other benefits (e.g. free gym memberships, discounts on health care) each time they are "zapped" by the device. They also can log in to a web-based "dashboard" - a website that ZAP! users log in to (see Figure 2.1) - to track their own activity over time and compare their total rides, miles biked, calories burned, pounds of CO2 reduced, and gallons of gas saved to that of other bicyclists using the same device. The aggregate data for an employer or city program is available to the administrator who can use the data for program evaluation.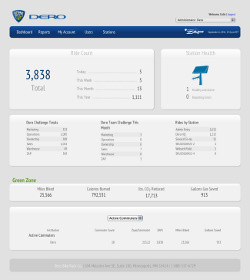 Image Source: Colin Klotzbach
Product Application: Seeing the ZAP! as a tool for enhanced encouragement of bicycle commuting, the Downtown Minneapolis TMO had proposed a plan (7) whereby the City would install fifteen Zap devices in a cordon around the downtown. Commuter Connection would administer the system, providing marketing and communications, registrations, educational events, and analysis of the resulting data for application to the League of American Bicyclists' Bicycle Friendly Communities program. When a commuter joins the system, Commuter Connection would register their bicycle with the National Bicycle Registry (a theft-prevention program) and provide an RFID tag for $15/bicycle, which links the bicycle to the particular commuter. The plan proposes to award one "point" for each zap; users can redeem points online for bicycle gear and services. Administrators with Commuter Connection would have access to the participant usage data, enabling better program evaluation with the potential to expand to a larger data-collection effort.
Results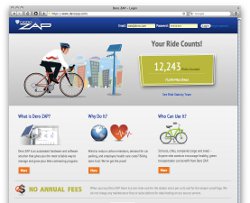 Image Source: Colin Klotzbach
While Dero's ZAP! product has seen initial success, Commuter Connection has had a difficulty finding funding for their proposed plan. As one of four communities nationwide involved in the Federal Highway Administration's (FHWA) Non-Motorized Transportation Pilot Program (NTPP), Commuter Connection first looked for funding through FHWA. Because the ZAP! device is so new, they were unable to provide evidence of the proposed plan's ability to shift commuters to non-motorized modes, and therefore were unable to secure NTPP funding. In a continued effort to find funding for their project, they have reached out to the Target Corporation, whose headquarters are in Minneapolis and who has an established community investment program. Their program, however, is focused on children in grades kindergarten through high school and so is not a perfect fit for a commuter-based incentive program. Lastly, they are exploring individual sponsorship of each device in the cordon ring; a challenge is to convince individual employers to fund a device that will benefit other, non-contributing employers.
Costs
The overall cost of a ZAP! program depends on the scale of implementation. Each ZAP! unit costs $6,500 plus $4 per RFID tag. For the TMO's proposal, infrastructure costs would total $97,500 plus the cost of the tags.
Other Potential Uses
Universities: The University of Minnesota won a $560,000 grant from Bike Walk Twin Cities via the Non-motorized Transportation Pilot Program and will contribute approximately $200,000 of their own funds for the development of their commuter incentive program (8,9). As part of the program, the university has installed and tested one Dero ZAP! device on campus and is currently in the process of installing the full system of 17 devices. As part of the campus Wellness program, they will be offering cash compensation for bike commuters, with the idea being to normalize bike commuting as a healthy option by eventually tying it to health insurance reductions. The grant will also allow for the development of a supporting system of education (class offerings), services (meeting space), and infrastructure (e.g. showers, secure bike parking).
Schools: Seward Montessori, Minneapolis, Minnesota has been using a device to incentivize children's bicycle and walking travel since 2009 (10). It is viewed as a way to reduce traffic congestion, improve air quality, promote a sense of neighborhood community, and motivate kids to develop lifelong healthy habits.
Retail: Seward Co-Op (a local grocer) has installed one device in connection with its point-of-purchase system to encourage their employees and customers to travel to the grocery store by bicycle. They view it as a way to achieve their mission of "sustaining a health community through environmental and socially responsible practices (11)." The device cost $6,500 with installation; the variable cost of the RFID tags are covered by the Co-Op, but replacements must be paid for at $4.
More Information
Mike Anderson, ZAP Product Manager, (800) 891-9298
Eric Hatting, Initiatives Manager, Seward Co-Op, (612) 460-1699
Andrew Rankin, Projects and Communications Coordinator, Commuter Connection Downtown Minneapolis TMO, (612) 370-3987 ext. 205
Steve Sanders, Campus Bicycle Coordinator, University of Minnesota, (612) 625-1333
http://www.dero.com/products/zap/
Contact
Terra Curtis
Graduate student, Department of City and Regional Planning, University of North Carolina at Chapel Hill
tmcurtis@email.unc.edu
Notice
The Pedestrian and Bicycle Information Center, funded by the US Department of Transportation's Federal Highway Administration, does not endorse specific products or manufacturers. Trade and manufacturers' names appear in this case study only because they are considered essential to the object of the document. An attempt was made by the author to ensure that all information was balanced and factual at the time preceding publication. If you have additional information or suggestions for case study content, please contact PBIC at pbic@pedbikeinfo.org.
References
1. Commuter Connection. (2011). About us. Retrieved from http://www.commuter-connection.org/about-us/.
2. Commuter Connection. (2010). ZAP! Minneapolis: RFID bicycle commuter tracker & rewards program. Minneapolis, MN: Andrew Rankin.
3. Commuter Connection. (2011). About us. Retrieved from http://www.commuter-connection.org/about-us/.
4. Minnesota Department of Health. (2011). About the Statewide Health Improvement Program (SHIP). Retrieved from http://www.health.state.mn.us/healthreform/ship/about/index.html.
5. Commuter Connection, 2010.
6. M. Anderson, personal communication, April 29, 2011.
7. Commuter Connection, 2010.
8. Steve Sanders, personal communication, April 29, 2011.
9. Transit for Livable Communities Minnesota. (2011). University of Minnesota Bike Center | Bike Walk Twin Cities. Retrieved from http://bikewalktwincities.org/projects/university-minnesota/university-minnesota-bike-center.
10. M. Skoine. (2009, Sep 10). Healthy habits are in motion! Retrieved from http://www.dero.com/blog/?p=273.
11. Rusch, M. (2011, Apr-May). Get 'zapped' when you bicycle to the Co-Op." Retrieved from http://www.seward.coop/sites/default/files/sprout/Sprout%21_apr_may.pdf.
Image Sources
Colin Klotzbach, Web/Graphic Designer for Dero Bike Racks