Using Walk Score for Neighborhood Planning in Washington, DC
Washington, DC
Source: Pedestrian and Bicycle Information Center (PBIC)
Background
Walk Score is a web-based tool developed by Front Seat, a civic software company based in Seattle. The product was launched in 2007 and was initially embraced by real estate professionals as a way to promote properties with good walking amenities. Front Seat's vision for the product was to inspire real estate ads to include a measure of walkability in property descriptions: "2 bedroom, 1 bathroom, 1,000 square feet, Walk Score 87 (4)." Since then, the product has been tailored to meet the needs of other fields, such as news media, academia, and public-sector research and planning. The Washington, DC Office of Planning is one of the governmental entities employing Walk Score's data in its regional- and neighborhood-scale planning efforts.
Problem
Front Seat's relationship with their local planning community alerted them to a then-new buzz word in planning: walkability. Inspired by 1) the need of planners to better measure walkability, 2) the Sightline Institute's work on mapping walking distances in different neighborhood types,(1) and 3) the understood benefits of walking, Front Seat wanted to address the challenge of promoting car-lite lifestyles.
A market for this product had been developing as planners and researchers began studying the concept of walkability and its effects on regions and neighborhoods. The DC Office of Planning (DCOP) is led by Director Harriet Tregoning who, according to one staffer, is a "data guru" who advocates for the use of data and statistics for making stronger arguments and justifications. Under her leadership, DCOP searched for new ways to integrate numerical measures of walkability into existing conditions analyses in developing plans (2). While academic research provides insight into the measures of the built environment that relate to walkability (3), an easy- and ready-to-use tool and data source would address the need more directly. They chose Walk Score as the appropriate measure to fill the gap.
Solution
Walk Score uses an algorithm that scores each address in a city on a scale of 0 - 100. Points are awarded based on the proximity of the address to nearby amenities such as restaurants, grocery stores, parks, and transit stops. Amenities within a quarter-mile of the address receive the maximum amount of points available, while amenities at greater distances receive less. The current version of the product uses "as-the-crow-flies" distances from the address to nearby amenities. A beta version, called Street Smarts Walk Score, refines the algorithm by using network distances and weights for different types of amenities (e.g. grocery stores are viewed as three times more important to walkability than banks, parks, schools, books, or entertainment options) (5). Street Smarts Walk Score is available online as a preview.

Image Source: www.walkscore.com
Director Tregoning sees opportunities to combine the Walk Score with affordability indices, retail attraction, and regional and neighborhood planning initiatives (6). Through her championing of the technology, staffers in DCOP now use Walk Score routinely when developing plans to understand how easy it would be to encourage pedestrian activity in certain areas and where pedestrian conditions could be improved. Because of its improved methodology using network distances and amenity weights, DCOP prefers the Streets Smarts Walk Score.
Results
One example planning effort in which Walk Score was used is the 14th Street Corridor Vision Plan and Revitalization Strategy, an ongoing effort within DCOP. Gizachew Andargeh, Neighborhood Planning Coordinator in Ward 7 of DC, provided information about how the product was used (7). The 14th Street plan was initiated by a citizen-led effort to improve physical storefronts and the quality and variety of commercial retail options along a 1.2-mile stretch between Spring Road and Longfellow Street. The ongoing effort has utilized Walk Score as an existing conditions metric, identifying an initial score of 70 at a representative address. The scores range from the mid-60s to the mid-80s along the corridor with the highest scores at the southern end. With this score, the area is classified as somewhat to very walkable, which DCOP used as a gauge of the feasibility and effectiveness of promoting more pedestrian activity along the corridor. DCOP was also able to use the Walk Score as a means of guiding conversations in advisory committee meetings.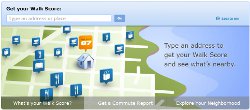 Image Source: www.walkscore.com
As this effort is ongoing, Andargeh said DCOP has not utilized the Walk Score as a performance measure, but expects to do so in 2-3 years after improvements have been made. While the original Walk Score was used in this study, he said he plans to use the Street Smart Walk Score in the future.
Andargeh also expressed some limitations of the tool and stressed the need to use it only in conjunction with other methods, such as site visits and conversations with community members. It cannot measure the quality of the pedestrian experience (such as visual appeal or relevance of retail options), upon which the 14th Street planning effort had been predicated.
Cost
Use of Walk Score's website is free. Data provided by request for research purposes varies based on the information requested. For up to 10,000 addresses, Walk Score (and the related Transit Score) are $500. Street Smart Walk Score for these points is an additional $1,000.
Limitations
Andargeh noted several limitations of relying on Walk Score, and the company acknowledges its shortcomings explicitly (8). While the algorithm is based on recent research around walkability, it does not account for these factors that also affect the propensity to walk: (9)
Street design - details like sidewalk presence or width, speed limits and actual automobile speeds, tree cover, street furniture are not included
Safety data - crime and crash data are not included although safety issues present significant barriers to the walkability of a neighborhood
Pedestrian-friendly community design - the algorithm lacks input on urban design features like building setbacks, clustering of destinations, parking placement, and frequency of storefronts that make a place more desirable for walking
Topography - no data on street or sidewalk slopes is included, which is also an inhibitor of walking
Weather - neither current conditions nor yearlong climate patterns are included
Because of these limitations, Walk Score cannot be relied upon as a comprehensive indicator of walkability and should be used with these caveats in mind.
Potential Other Uses
In Director Tregoning's presentation to the 2010 Smart Growth Conference, she noted several potential uses for Walk Score including tracking plan implementation progress and investment evaluation, defining regional activity centers, and as an employer recruiting tool (10).
Use of Walk Score within planning documents can also help raise the public's awareness of the tool, which is intended to stimulate a preference for active lifestyles and awareness of the concept of walkability. It can help frame conversations with advisory committees and prioritize areas of focus in small area or corridor plans.
A natural extension of the product itself is the development of a future scenario modeling tool, enabling cities and regions to measure how walkable an area will be in the future given planned zoning and development. As of April 2011, this functionality has not yet been developed (11).
Durham, North Carolina-based Triangle Transit recently developed a "Neighborhood Transit Readiness Scorecard" tool using Walk Score data for rating transit- and pedestrian-friendly communities, the methodology of which is repeatable by any individual or local government using GIS. They highlight the scorecard's utility for assessing what types of investments and regulatory changes are necessary to create these types of "livable" environments, making future scenario testing possible. The scorecard is based on research done by Robert Cervero and Reid Ewing, which finds that "3 D's" of the built environment are determinants of walkability: design, density, and diversity (12). The scorecard utilizes Walk Score, which measures the variety of amenities within walking distance of an address, as a proxy for land use diversity. Triangle Transit used the scorecard to grade several neighborhoods in its service area to determine those that are already transit-supportive and those that will need improvements before regional rail is implemented (13).
Walk Score's algorithmic framework lends itself to a "bike score" methodology as well. This would come with all the benefits and limitations of Walk Score, but would be an additional standardized measure of bikeability. The Walk Score team is currently collecting users' suggestions on the most important components of a bike score (14).
Lastly, additional qualitative data about places could be added. Because data on crashes is publically available nationally through the National Highway Traffic Safety Administration (15) and crime data is available through websites like SpotCrime (16), these elements of walkability appear to be feasible additions to the Walk Score algorithm, making it a more comprehensive measure. Conversations with a SpotCrime representative revealed that this type of data integration is feasible. Yelp or other customer review data could be used to gauge the quality of retail in an area, adding another layer of sophistication to the tool.
More Information
Harriet Tregoning, Director, District of Columbia Office of Planning, 202-442-7600, harriet.tregoning@dc.gov
Tanya Washington Stern, Chief of Staff, District of Columbia Office of Planning, 202-442-7635, Tanya.Washington@dc.gov
Gizachew Andargeh, Ward 7 Neighborhood Planner, District of Columbia Office of Planning, (202) 442-7600, gizachew.andargeh@dc.gov
Patrick McDonough, Senior Planner, Triangle Transit, 919-485-7455, pmcdonough@triangletransit.org
Aleisha Jacobson, Office Manager and Customer Support, Walk Score, aleisha@walkscore.com
Contact
Terra Curtis
Graduate student, Department of City and Regional Planning, University of North Carolina at Chapel Hill
tmcurtis@email.unc.edu
Notice
The Pedestrian and Bicycle Information Center, funded by the US Department of Transportation's Federal Highway Administration, does not endorse specific products or manufacturers. Trade and manufacturers' names appear in this case study only because they are considered essential to the object of the document. An attempt was made by the author to ensure that all information was balanced and factual at the time preceding publication. If you have additional information or suggestions for case study content, please contact PBIC at pbic@pedbikeinfo.org.
References
1. Sightline Institute. (2006). Map of a compact community: Walkability within one mile - Sightline Institute. Retrieved from http://www.sightline.org/maps/maps/Sprawl-UrbanWalk-CS06m.
2. G. Andargeh, personal communication, September 29, 2011
3. Cervero, R., Handy, S., Brownson, R.C., Clemente, O., & Winston, E. (2006). Identifying and measuring urban design qualities related to walkability. Journal of Physical Activity and Health, 3(1), S223-S240; Cervero, R. & Kockleman, K.. (1997). Travel demand and the 3Ds: Density, diversity, and design. Transportation Research Part D: Transport and Environment, 2(3), 199-219; Cervero, R. & Ewing, R. (2010). Travel and the built environment: A meta-analysis. Journal of the American Planning Association, 76(3), 265-294.
4. Front Seat. (2011). Front Seat - projects. Retrieved from http://www.frontseat.org/projects.html#walkscore.
5. Walk Score. (2011). Walk Score methodology white paper. Seattle, WA. Retrieved from http://www2.WalkScore.com/pdf/WalkScoreMethodology.pdf.
6. Tregoning, H. (2010, Feb 4). Getting to walkability - Using walk score as planning metric and goal. Retrieved from http://www.slideshare.net/mrlerner/getting-to-walkability.
7. G. Andargeh, personal communication, September 29, 2011.
8. Walk Score. (2011). How it doesn't work: Known issues with Walk Score. Retrieved from http://www.WalkScore.com/how-it-doesnt-work.shtml.
9. Federal Highway Administration. (2002). Pedestrian facilities users guide - Providing safety and mobility. Chapel Hill, NC: Zegeer, C.V., Seiderman, C., Lagerwey, P., Cynecki, M., Ronkin, M., & Schneider, R.; Leslie, E., Saelens, B., Frank, L., Owen, N., Bauman, A., Coffee, N., & Hugo, G. (2005). Residents' perceptions of walkability attributes in objectively different neighbourhoods: a pilot study. Health & Place, 11, 227-236; Rodriguez, D.A. & Joo, J. (2004). The relationship between non-motorized mode choice and the local physical environment. Transportation Research Part D, 9, 151-173; Leslie, E., Coffee, N., Frank, L., Owen, N., Bauman, A., & Hugo, G. (2007). Walkability of local communities: Using geographic information systems to objectively assess relevant environmental attributes. Health & Place, 13, 111-122.
10. Tregoning, 2010.
11. A. Jacobson, personal communication, April 28, 2011.
12. Cervero, R. & Ewing, R.( 2001). Travel and the built environment: A synthesis. Transportation Research Record: Journal of the Transportation Research Board, 1780, 87-114.
13. McDonough, P., Parker, J., & Reynolds, W. (2011). Measuring urbanity one block at a time: the neighborhood transit readiness scorecard. Carolina Planning, 36, 7-16.
14. Walk Score. (2011). Bike Score - From the makers of Walk Score. Retrieved from http://www.bikescore.com/.
15. National Highway Traffic Safety Administration. (2009). Traffic safety facts 2009 data: Pedestrians. Washington, DC. Retrieved from www-nrd.nhtsa.dot.gov/Pubs/811394.pdf.
16. SpotCrime. (2011). SpotCrime - The most comprehensive online source of crime information. Retrieved from www.spotcrime.com.
Image Sources