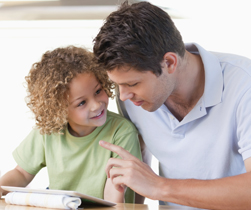 What is Bicycle Safer Journey?
Bicycle Safer Journey helps educators, parents and others who care about bicycle safety to get the conversation started with children and youth. Three videos — one for each of three age groups — accompanied by a quiz or discussion and an educator's resource library can be used as an introduction to bicycle safety skills or to augment a comprehensive curriculum.
Why do children and youth need skills for safe bicycling?
Whether riding with adult family members or with friends, learning basic bicycle safety may help prevent injuries and prepare school-age children and youth for a lifetime of safe bicycling. As young people become drivers, it may help them be more aware of bicyclists as they navigate their community's streets. Preventing bicycle-related injuries requires a combination of approaches: engineering strategies to improve the physical environment for bicycling, enforcement strategies to reduce vehicle speeds and increase safe passing by drivers, and safety skills development and education for drivers and bicyclists.