Old Town Improvements
Eureka, California
Source: Pedestrian and Bicycle Information Center (PBIC)
Problem
Improvements were needed to make Eureka's Old Town District more pedestrian friendly.
Background
Inspired by Sacramento, California, and other cities in the region that had beautified their historic districts, the City of Eureka Planning and Engineering Departments and concerned citizens of Eureka began to work together in 1972 to revitalize the City's "Old Town" District. The area included a wide variety of Victorian shops, homes and the historic Carson Mansion.
Solution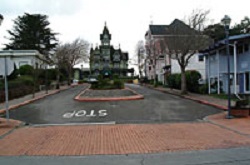 A view down 2nd Street shows bulb-outs, brick crosswalks, brick and exposed aggregate sidewalks, a traffic island and lighting with the famous Carson Mansion in the background.
The City of Eureka has installed a variety of treatments along 2nd Street from C Street to M Street, including curb extensions/bulb-outs, S-curves, raised islands, trees, benches, pedestrian lighting, exposed aggregate/brick sidewalks, and adding special features to crosswalks and intersections. Additionally, parking was removed from portions of each side of the street where sidewalks and planters were installed. The City of Eureka has been working on this concept through the years and expanding this treatment on the side streets from Humboldt Bay to 3rd Street with the last portion being completed in 1997.
Since the early 1970s, the average cost has been about $150,000 per block, which has included sidewalks, planters, lighting, streets, underground utilities, etc. Approximately 27 blocks were completed. In addition, Clark Plaza, the Gazebo, and numerous parking lots in Old Town were also added. The Eureka Redevelopment Agency funded the improvements.
Results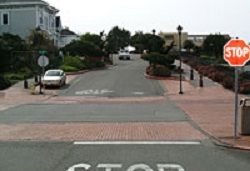 Looking west on 2nd Street, the view includes the curved street, bulb-outs, streetlights, trees, brick crosswalks and bollards.
The 2nd Street portion of "Old Town" is now a significant attraction for tourists and local residents to visit, walk, and shop. The area has a variety of establishments with sidewalk seating and high pedestrian volumes. Many activities, including an annual Fourth of July festival, weekly farmers markets, free weekly summer concerts and monthly Saturday Night Arts Alive programs are now centered in "Old Town."
The average daily traffic (ADT) volume on the corner of 2nd and L Streets is now 2,500 vehicles per day, and Traffic Engineering Analyst Dan Moody estimates it to be higher in the more developed portions of the "Old Town" district. Despite the success of the project, there has been some discussion of tearing out parts of the pedestrian improvements to install additional on-street parking. Moody believes that this pedestrian environment took some time to create and would be missed if removed.
Pedestrian improvements continue to be used to complement Eureka's historic district revitalization efforts. With the help of pedestrian-friendly design, some art gallery and studio businesses that closed after the development of a mall in the late 1980s are coming back, and new office space is being developed. Some of the same pedestrian treatments built in the 1970s are being extended towards downtown Eureka, with curb bulb-outs on 4th, 5th, E, F and G Streets. Although these projects are not identical to the 2nd Street improvements, they have similar curb bulb-outs and incorporate brick pavers, trees and pedestrian-scale lighting.
The City is currently constructing a boardwalk along the Eureka Waterfront between C and G Streets. This boardwalk incorporates many pedestrian-friendly features, including bricks, sidewalk embossing, planters, benches, pedestrian lighting, banners, arts and historic interpretive signing.
Although issues still complicate the redevelopment of Eureka's waterfront and many parts of downtown and the historic district, the director of Eureka's Main Street program believes that the pedestrian-supportive environment of the area contributes greatly to the revitalization process.
Contact
Gary D. Boughton
Deputy City Engineer
City of Eureka, 531 K Street
Eureka, CA 95501
Phone: (707) 441-4187
Fax: (707) 441-4202
Email: gboughton@eurekawebs.com