Park Trail Bridges
Prescott, Arizona
Source: Pedestrian and Bicycle Information Center (PBIC)
Problem
Four creek crossings were crucial to development of a 1 mi (1.6 km) trail in the heart of Prescott, Arizona, and the development of the trail was central to implementation of the community's citywide bicycle and pedestrian transportation plan. However, severe funding constraints and significant engineering challenges put completion of the project at risk.
Background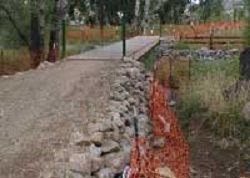 The Miller Creek permanent bridge provides pedestrian access across West Granite Creek Park.
Prescott is located near the center of Arizona. This community of 35,000 residents is joined by two smaller cities, Prescott Valley and Chino Valley, to create a tri-city area of just over 100,000. Prescott was Arizona's first Capitol, settled around seven creeks that descend from the surrounding mountains into a fertile basin. With five colleges, a growing retirement community, picturesque open spaces and innumerable amenities, the Prescott tri-city area population is projected to balloon to over 200,000 by the year 2015.
West Granite Creek Park (WGCP) is a wild riparian area that surrounds the confluence of Miller and Granite Creeks. Owned by the City, the park is just a few blocks from Prescott's downtown, seven schools, many churches and neighborhoods. Many pedestrians and bicyclists did not use the park to travel between the east and west halves of the city because a 35 mi/h (56 km/h), five-lane connector road with 25,000 average daily traffic volume passed through WGCP, blocking pedestrian and bicycle passage.
Since the 1980s, many local groups had requested trail improvements through WGCP. After the connector road was built in the early 1990s, WGCP became the only potential non-motorized access route across town. In its unimproved condition, pedestrian and bicycle traffic increased in WGCP despite slippery and often impassable water crossings, primitive trails and a transient population that had taken up shelter in the overgrowth.
In 1997, Prescott Alternative Transportation (PAT), a non-profit organization, began working toward a pedestrian and bicycle friendly city. Early on, PAT worked with the City of Prescott to develop safer trail access through WGCP and support Prescott's pedestrian and bicycle transportation system.
In 1998, City Council approved Prescott's first bicycle plan, developed by the Prescott Bicycle Advisory Committee and PAT. The plan described the existing bicycle and pedestrian use of West Granite Creek Park and the key connecting role that the planned WGCP multi-use trail would play in Prescott's proposed Bicycle and Pedestrian Transportation System. As a result, WGCP was identified as a target area for the first trail improvements.
Solution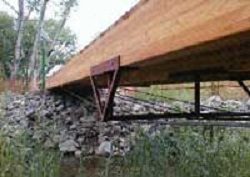 The Miller Creek permanent bridge tension frame was used to steady the bridge for pedestrians and bicyclists.
In 1999, City of Prescott Trails and Open Space Coordinator Eric Smith organized groups and individuals, including PAT, into the WGCP Master Plan Team and created a facility master plan to guide the development of the trail system within the park. The comprehensive plan was passed by City Council in July 2000, but without dedicated funding. Bolstered by the Council's political support and undaunted by a lack of funds, trail development began immediately with Smith directing volunteer trail builders.
The first phase of trail to be built was approximately 1.6 km (1 mi) long. It was constructed at a variable width, 2.4 to 3 m (8 to 10 ft), of hard-packed crushed stone. Leach rock was used as a base along with rock edging. It was built with 1,100 hours of volunteer labor over six months at a cost of $8,000. In addition to the land trail, four creek crossings were crucial to ensure that the trail system connected to all of the adjacent neighborhoods. A lack of dedicated funding presented a challenge to prospective bridge builders.
Fortunately, PAT found ways to pay for the trail and creek crossings with limited funds. One new crossing is the Miller Creek permanent bridge. This bridge was constructed using 60 ft (18.3 m) glue-laminated wood beams, set on stone abutments, with Douglass Fir decking. When first installed, this bridge bounced wildly when a pedestrian or bicyclist crossed. Smith and the Parks Department staff built a tension frame from scrap rebar and plate steel. The plate steel supports the center of the bridge from below, holding tension at the two ends by way of bolts welded to the rebar tightened with nuts. They jacked up the center of the bridge with car jacks until it could not bow any further, installed the tension frame and tightened the nuts before releasing the jacks. The tension frame removed 80 percent of the bounce and made the Miller Creek bridge a sturdy water-crossing without further expense. It is not anchored and thick cables allow the bridge to pivot in case of flood. While a prefabricated bridge would have cost over $20,000, the total cost of this bridge was $3,500.
Another bridge was also created over Granite Creek using an existing sewer pipe. When Granite Creek water levels rose above a few feet, this abandoned sewer pipe served as the only possible creek crossing for pedestrians. Though there were risks posed by the bridge in its original form, it offered a sturdy foundation for the Granite Creek Eagle Scout sewer pipe bridge. This bridge is constructed by anchoring 9.1 m (30 ft) of 51 mm x 305 mm (2 in x 12 in) wooden boards to the concrete sides and abutments of the sewer pipe structure. These provided the base for the 1.2 m (4 ft) wide Trek artificial wood decking. The narrow pipe prevented the bridge from being widened beyond 1.2 m (4 ft). Concrete curbing for the trail approaches preserves the trail surface where it connects to the bridge. The Eagle Scouts donated their labor, and the total cost was $2,000.
Two temporary bridges, one across Miller Creek and the other across Granite Creek, were also constructed. Their combined construction cost was $200, and one of the bridges will eventually be moved and used for another trail project.
Results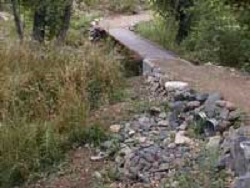 The Granite Creek Bridge takes advantage of an existing sewer pipe as its foundation.
By keeping the out-of-pocket costs as low as $13,700 for the 1.6 km (1 mi) trail and four bridge crossings, the City staff found previously budgeted and approved funds in the Parks budget for the projects. City commitment to use already budgeted funds was strengthened by a very successful fundraising event, which garnered over $12,000 for the WGCP in one night. In the end, these funds did not have to be used for phase one project costs and were combined with other individual donations and foundation grants. PAT also received a $500,000 Transportation Enhancement award and hired a greenway coordinator to spearhead development of an additional 3 mi of trail along Granite Creek.
This project was successful because it was fully supported by the community. Since the day the last water crossing was installed, there has been a constant flow of pedestrian and bicycle traffic through WGCP.
By offering a safe route under the connector road, the completion of the WGCP trails has prompted the development of Prescott's on-street bicycle and pedestrian transportation system. It also represents the cornerstone of Prescott's future greenway trails system that will some day stretch to Prescott's borders and connect the tri-cities via a rails-to-trails conversion project.
Contact
Bob McCarty
Operations Manager
Prescott Alternative Transportation
309 E. Gurley Street
Prescott, AZ 86301
Phone: (928) 708-0911
Email: bob@prescottbikeped.org