Wall Street Revitalization
Asheville, North Carolina
Source: Pedestrian and Bicycle Information Center (PBIC)
Problem
The city was looking for ways to revitalize its aging downtown and take advantage of an alley behind a major commercial street that was already evolving into a pedestrian-friendly space with both retail and commercial orientations.
Background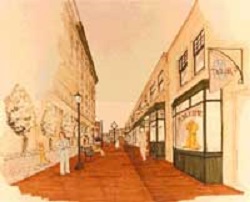 Renovation plans by Glave Newman Anderson Architects.
Wall Street in downtown Asheville, North Carolina, located between Otis Street and Battery Park Avenue, originated as a delivery alley servicing the backs of the buildings facing Patton Avenue. It is one block long with a sharp bend on the east end and was opened to through traffic in the first part of the 20th century. During the second half of the 20th century, Wall Street became home to several businesses and developed a reputation as an entertainment enclave. The narrow street supported one-way motor vehicle traffic traveling at slow speeds and Wall Street gained a pedestrian-friendly reputation. However, the aesthetic ambience was defined more by its life as an aging alley than as a charming urban enclave.
Solution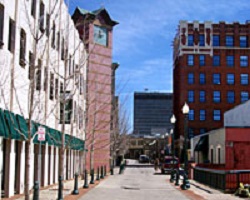 Wall Street is now a charming shopping district.
The mid-1980s and revitalization of the buildings on Patton Avenue and Wall Street led the comeback. A downtown-wide emphasis was placed on preserving Asheville's historic and architecturally significant buildings. A development company specializing in historic renovation rehabilitated the buildings fronting Wall Street, as well as the facades facing Patton Avenue and College Street. The developer raised $3.6 million for the project and the City appropriated $450,000 for landscaping, street and sidewalk improvements, and a pedestrian pass-through to connect Wall Street with Patton Avenue and College Street.
The redevelopment of buildings along the street began in 1986. A streetscape plan was adopted, which led to the complete resurfacing of the streets with cobblestone paving, placing electric service and wires underground, and providing new storm drainage system. Sidewalks, brick paved areas, historic era streetlights, benches and landscaping were installed shortly thereafter. In addition, the historic wall of Wall Street, which collapsed during construction, was repaired and replaced. The final stage of Wall Street's evolution was construction of a parking garage at the end of the street, giving easy walking access for patrons of the businesses on the street. Upon request of Wall Street's merchants, metered on-street parking was added in 1993 on one side of the street, helping to lower driving speeds and making the street accessible to more visitors.
Results
The grand re-opening of Wall Street occurred in 1988 featuring approximately 69,000 square ft of retail shops and restaurants at street level and additional office space on the upper levels of the buildings. Wall Street is now caters to locals and tourists.
Wall Street continues to have a friendly pedestrian environment. It averages 402 average daily traffic volume, with an average vehicle speed consistently below 20 mi/h. The street is home to many unique shops, restaurants, an outdoor climbing wall placed by a merchant on the parking deck with the City's permission, and a church. A section of Asheville's Urban Trail interpreting Wall Street's history was added in 2000.
Its quaintness attracts heavy pedestrian traffic, making Wall Street a popular shopping and dining destination in downtown Asheville. "Wall Street is truly one of downtown Asheville's gems," stated Leisa Barnette, executive director of the Asheville Downtown Association. "On any given day, the street is crowded with locals and tourists alike making it a great people watching spot and simply a wonderful place to be."
The physical characteristics of the street that are conducive to slow automobile speeds combined with the pedestrian friendly streetscape elements enable Wall Street to prosper. These improvements have resulted in several improvements to pedestrian safety as well. For example, the construction described above have resulted in a "shared street" environment with benches, bollards, landscaping, and paving treatments, which vehicle speeds are much lower than on a traditional street. Since vehicle speeds are now expected to be close to walking speeds, this has likely reduced the potential for pedestrian crashes and reduced the severity of any crashes that might occur. Also, the addition of street lighting is expected to improve pedestrian safety at night.
Contact
City of Asheville Traffic Engineering Department
29 Haywood Street
Asheville, NC 28801
Phone: 828-259-5943
Email: christye@mail.ci.asheville.nc.us