High-Volume Pedestrian Crossings
Las Vegas, Nevada
Source: Pedestrian and Bicycle Information Center (PBIC)
Problem
A methodology was needed to guide the design of pedestrian crossings in areas with very high pedestrian volumes.
Background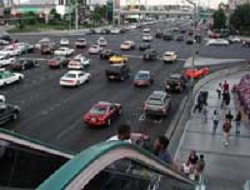 The Las Vegas Strip serves large volumes of both vehicles and pedestrians.
Pedestrian crossings are commonly designed to meet existing conditions. Pavement markings are generally aligned to match the existing locations of curb ramps or to match sidewalk widths, not considering the potential for large volumes of pedestrians at high traffic intersections. The sidewalks and crossings may not allow sufficient space for large volumes of people, causing pedestrians to walk outside of the marked crossing in adjacent motor vehicle lanes, and increasing the risk for both pedestrians and motorists.
Clark County, Nevada, includes the famous Las Vegas Strip and many other locations with high pedestrian traffic in its jurisdiction. Many of the roadways in these areas are six lanes and the intersections of the arterial roadways are very wide, creating dangerous conditions where pedestrians mix with vehicles. Therefore, safer and more comfortable sidewalks and pedestrian crossings were needed.
Solution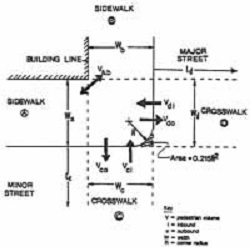 This graphic shows the relationships between pedestrian elements at the corner of an intersection as defined in the Romer/Sathisan Integrated Systems Methodology for Pedestrian Traffic Flow Analysis.
In the mid-1990s, Clark County engineers and planners developed a methodology for sizing pedestrian crossing facilities based on pedestrian traffic volumes. This methodology is described in a 1997 Transportation Research Board paper, entitled, "Integrated Systems Methodology for Pedestrian Traffic Flow Analysis."
The technique takes an analytical perspective to quantify and assess the safety and comfort of pedestrians. It requires three basic elements of the pedestrian transportation system to be considered: 1) sidewalks or walkways; 2) mid-block or intersection corner, holding, or queuing areas; and 3) pedestrian crossings of roads, railway lines or other physical features of the transportation network. The methodology takes a systems approach that identifies key relationships between these three pedestrian elements at a signalized intersection. It can be used to evaluate existing pedestrian conditions at an intersection, and to develop decision support tools to evaluate the potential need for new signalized at-grade intersection pedestrian elements or a grade-separated pedestrian facility.
At the same time that this methodology was being developed, the Nevada Office of Traffic Safety and Clark County hosted a weeklong charrette entitled "Creating a More Walkable Las Vegas" in April 1996. Using the proposed model and a variety of analytical tools, a broad-based series of recommendations were made through a professional team.
Results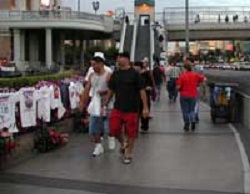 Pedestrian bridges are provided across all four legs of the intersection of Tropicana and Las Vegas Boulevard South. Pedestrians may not cross at-grade.
While no single event or technical document can be solely responsible for creating change, the past decade has seen considerable changes in the pedestrian environment in Las Vegas. Public and private investments have enhanced pedestrian movements, yet in some cases, they have made them more difficult. At several major intersections, pedestrian bridges have been developed linking large casino properties on all four corners of the intersection at the second floor level, and prohibiting at-grade pedestrian crossings. New landscaped medians have been provided along the strip, enhancing mid-block crossings in some locations, but restricting pedestrian crossings at others.
The methodology has been used in Las Vegas to improve the design of pedestrian facilities at all the new mega-resorts constructed over the last few years. This systems analysis has been used on several public roadway projects, such as the ones for Flamingo Road and Tropicana Road. Also, the concept has been used to establish a public safety perspective to support an ordinance that regulates the placement of news racks. Similarly, it was used in an Obstructive Use ordinance that establishes a specific threshold standard for sidewalk pedestrian traffic flow and regulates and prohibits mobile activities, such as handbill solicitation and t-shirt vendor tables, on segments of sidewalks that cannot adequately support those activities.
According to Richard Romer, one of the engineers who developed the analytical technique, the method was created recognizing the need to design pedestrian circulation systems that provided appropriate levels of service and comfort, especially relative to land uses that generate high volumes of pedestrians. This systems approach can also be used in the planning and design of other pedestrian facilities, such as median or refuge island areas for pedestrians and grade-separated facilities.
While there are few communities with the same roadway and pedestrian environment as the Las Vegas Strip, many communities have transit stations, busy urban streets, and suburban growth corridors with high pedestrian volumes and many pedestrian-vehicle conflicts. These areas can benefit from an analytical approach to determining the appropriate facilities for pedestrians crossings. Therefore, the tools developed for high traffic pedestrian intersections in Las Vegas can be used to improve the safety and comfort of pedestrians at crossings in other communities.
Contact
Walter Vodrazka, Jr., P.E.
Project Engineer
Orth-Rodgers & Associates, Inc.
3130 S. Durango Drive, Suite 404
Las Vegas, NV 89117
Phone: (702) 233-4060
Email: wvodrazka@orth-rodgers.com
References
Integrated Systems Methodology for Pedestrian Traffic Flow Analysis, Romer, RT; Sathisan, SK., Transportation Research Board (TRB), Transportation Research Record 1578-Pedestrian and Bicycle Research, 1997, pp. 30-37. ISBN: 0309061687.

Creating a More Walkable Las Vegas, Final Report from the April, 1996 Las Vegas Pedestrian Safety Workshop, Walkable Communities, Inc., November 1996.