Small Town Traffic Calming
Oneonta, New York
Source: Pedestrian and Bicycle Information Center (PBIC)
Problem
In the 1970s, residents of Oneonta wanted a pedestrian-friendly alternative to urban renewal projects that had resulted in narrow sidewalks, high volumes of vehicle traffic, and the demolition of historic buildings in the downtown area.
Background
Oneonta is a small upstate New York city located approximately 60 mi southwest of Albany. It has two colleges (Hartwick and SUNY Oneonta) and a surrounding region of working agricultural landscapes. By the late 1970s, Urban Renewal was an unpopular program in Oneonta. The federal program to renew urban blight often resulted in streets with features that were not pedestrian friendly, such as narrow sidewalks, four lane sections designed for high volumes of motor vehicle traffic, and the demolition of historic buildings. Frustrated by this approach, Oneonta took a step back with its final round of urban renewal funding, hired a local landscape architect and conducted surveys of what people wanted downtown. The result was that people wanted a place to walk, cross the street easily, and sit down in the shade. They wanted slow traffic, with easy places to park that were safe and pleasant.
Solution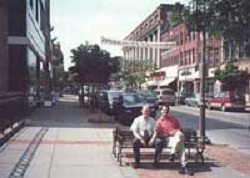 A wide sidewalk is combined a with curb extension to provide space for benches and shade trees.
Based on this input, the City redesigned Main Street in 1976 with curb extensions/bulb-outs, protected on-street parking, only two lanes of traffic, wide sidewalks, and mid-block slow points, all on a street with a 70 ft right-of-way from building to building. The comprehensive project was completed over 18 months from 1978-1980 (1.5 years), upgrading the sanitary, storm, and electrical lighting systems at the same time as the pedestrian- and business-friendly environment was being created. The first phase opened in 1980 and, over the years, Oneonta has continued to improve the design of Main Street, adding period street lighting and developing a detailed palette of paving materials. The original traffic calming features of the early design have remained and are now an integral part of the streetscape. The primary federal funding used for the improvements has been the HUD Small Cities Program, which involves a revolving loan payback system. In 2000, a hotel was built on one of the former urban renewal sites, and the city created a new urban square to link the hotel to Main Street. Approximately $1 million dollars have been invested in Oneonta's Main Street program over the past 30 years.
Joe Bernier, the former Director of Community Development, described the evolution of Main Street as a compromise between merchants who want parking, people who want to sit in a common space, and traffic engineers who want through traffic. He adds that the city has learned a lot about building materials; for example, the original concrete crosswalks were replaced with stamped asphalt because the concrete became slippery and subject to frost movement. They are currently using brick pavers, set in a sand sub-base, as a decorative border for the concrete sidewalks. However, they generally try to minimize the use of too many materials due to maintenance concerns.
Results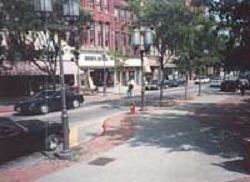 A mid-block curb extension on Main Street in Oneonta, NY, narrows the street to two lanes and cuts the pedestrian crossing distance in half.
Main Street in Oneonta carries approximately 14,000 average daily traffic, according to a New York State Department of Transportation corridor study. The perception of the street as a safe place for pedestrians is confirmed by traffic safety data. The 85th percentile speeds are consistently maintained near the 25 mi/h posted speed limit. Ground floor commercial occupancy is near 100%, and the design of the street is helping the city evolve from a retail center to a new market as a college town with close-to-home tourism destinations including the National Soccer Hall of Fame and National Baseball Hall of Fame. With the support of the Intermodal Surface Transportation Efficiency Act (ISTEA) and Transportation Equity Act for the 21st Century (TEA-21), the NYSDOT has played an increasing role. A recently funded corridor study recommended funding for an Oneonta Greenway to connect with Main Street as well as several downtown Gateway projects.
At present, the city continues to upgrade Main Street with next-generation treatments and amenities such as street furniture, phasing in a few improvements at a time. The Department's pedestrian-friendly focus has expanded, with comprehensive development plans linking destinations such as parks, schools, and Main Street with shared pedestrian and bicycle routes throughout the city.
Contact
James Hawver
City of Oneonta Engineering
City Hall
258 Main St
Oneonta, NY 13820

Telephone: (607) 432-6465
Fax: (607) 432-3055
Email: jhawver@oneonta.ny.us
References
City of Oneonta website: http://www.oneonta.ny.us