Pedestrian Work Zone Traffic Control (WZTC)
New York State
Source: Pedestrian and Bicycle Information Center (PBIC)
Problem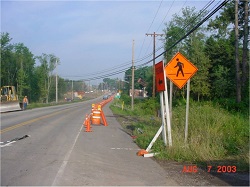 Pedestrian Detour at Shoulders in the Town of Cicero (near Syracuse, NY). Due to the moderate duration of work, and daily presence of pedestrians, cane detectable orange fencing is secured by barrels to provide a temporary pathway on the shoulder.
Safe and accessible pedestrian pathways are sometimes disrupted or removed during highway construction projects.
Background
This case study update summarizes how pedestrian traffic is maintained and protected in high density suburban road environments, where pedestrian facilities may or may not be present.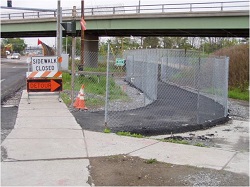 Pedestrian Detour at Sidewalk Closure in the Town of Greece (near Rochester, NY). A temporary asphalt concrete surface with cane detectable chain link fencing is provided to guide pedestrians toward and over a temporary structure during construction.
Pedestrian work zone traffic control (WZTC) should be consistent with the type of work zone, location, and duration of work. Anticipated pedestrian, motor vehicle, truck, and bicycle traffic and the potential conflicts between pedestrians and the above modes of traffic need to be considered. Where there is a low expectation of pedestrian traffic, low motor vehicle volumes, and minimal disturbance in the work zone, nothing special needs to be done, and pedestrian traffic may proceed with caution.
However, if existing pedestrian use of sidewalks, shoulders, and structures on a highway with moderate to high motor vehicle volumes will be disrupted by a work zone, other arrangements should be made to allow pedestrian traffic to safely travel through or around the work zone. Effective pedestrian WZTC also requires safe pedestrian street crossings, detectable warnings at curb ramps/medians, and illumination where appropriate.
Solution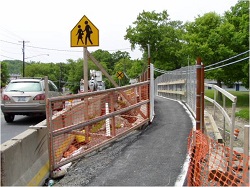 Pedestrian Detour for Staged Construction of a bridge over a railroad crossing in the Village of Hudson Falls (near Glens Falls, NY). Due to the longer work duration and high pedestrian/vehicle traffic in a school zone; toe railing is applied with fencing.
Examples of suburban pedestrian WZTC provided in Upstate New York are shown in the photographs on this page.
Results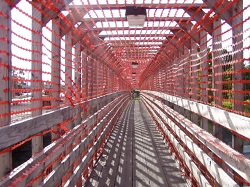 Pedestrian Detour on Temporary Bridge in the Town of Greece (near Rochester, NY). The temporary structure was designed to ADAAG and PROWAG best practice specifications, and included overhead lighting for 24 hour public use.
The above sites passed NYSDOT inspection for pedestrian accommodation, and scored above average for compliance with ADAAG and existing PROWAG best practice specifications. Each measure effectively improved safety and reduced potential conflicts between all traffic modes.
Images
Photos by: Eric L. Ophardt, P. E., Pedestrian /Bicycle Section Manager, New York State Department of Transportation.
Contact
James M. Ercolano, Pedestrian Specialist
New York State Department of Transportation, POD 54
50 Wolf Road, Albany NY 12205
Phone (518) 457-4087, Fax (518) 457-9779
E-mail: jercolano@dot.ny.gov
References
Highway Design Manual, Chap. 16 - Maintenance/Protection of Traffic in Highway Work Zones https://www.dot.ny.gov/divisions/engineering/design/dqab/hdm/hdm-ch16?nd=nysdot