School Zone Traffic Calming
Portland, Oregon
Source: Pedestrian and Bicycle Information Center (PBIC)
Problem
Through its routine technical analysis of pedestrian safety around Portland's public schools, the City's Traffic Calming program proactively identified Sabin Elementary School as a high priority for intervention. In particular, safety issues existed at two arterial streets that were crossed by many of the children walking and bicycling to the school.
Background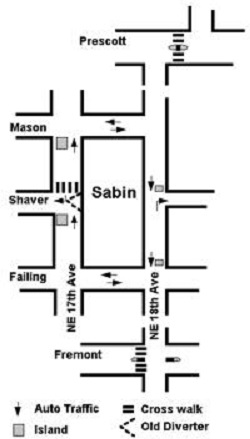 Over 500 children attend Sabin Elementary School. The school is located in an older, predominantly low- to middle-income neighborhood that is experiencing some revitalization. The neighborhood is generally well served by a traditional grid street pattern, with both north-south and east-west arterials well-spaced among the narrower residential streets in the grid. However, the school itself is not located on an arterial street.
In 1997, the Portland Traffic Calming Program (TCP) undertook a School Safety Project on the streets adjacent to Sabin Elementary School to improve student pedestrian safety. After initial discussions with the school staff, parents, and neighborhood residents, it became clear that those using the school every day had identified additional traffic safety hazards that TCP assessment had not identified, including school-related bus and auto traffic congestion directly in front of the school and on its surrounding streets. Another concern was parking problems, such as the screening of kids crossing the street to and from school by parents parking in no-parking zones to drop-off or pick-up their own children.
Solution
To start the planning process, City staff convened the Sabin School Safety Committee. The committee was made up of various stakeholders from the community, including the school principal, interested persons from the community, and representatives of the Sabin School PTA, Site Council, Local School Advisory Committee, Portland Police, Portland Fire Bureau, Sabin Community Association. The committee was particularly sensitive to the adverse effects of automobile congestion on pedestrian safety.
Working together, the TCP staff and committee established goals for the school safety project, which included the overall goals of minimizing traffic congestion and enhancing the safety of younger pedestrians associated with the elementary school. Additionally, the committee adopted the specific objectives of decreasing speeds on 17th and 18th Avenues, improving visibility at 17th and Shaver, and improving crossing safety at the nearest arterial streets of Prescott and Fremont.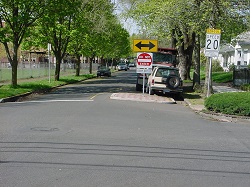 Traffic-calmed street near Sabin Elementary School.
To achieve these objectives the committee proposed several strategies:
Semi-diverters would be installed on 17th and 18th to encourage a clockwise circulation pattern around the school. This would create predominant northbound traffic on 17th and southbound traffic on 18th in the two-block region between Mason and Failing Streets. The expected increase in speeding due to the clockwise circulation would be mitigated by including speed bumps on 17th and 18th, between Mason and Failing.
Parking restrictions would be modified on the west side of 18th between Mason and Failing.
An older semi-diverter at 17th and Shaver that obscured pedestrians crossing the street would be removed and a marked school crosswalk would be added at this location.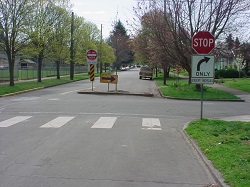 Pedestrian refuge islands were added at the school crosswalks on both Prescott and Fremont Streets near 18th Avenue.
Residents around Sabin Elementary were invited to an open house to review and comment on the proposed project. The open house was converted into a regular community forum for discussing the project and obtaining citizen input.
Concerns were expressed during neighborhood meetings that the modification of the traffic would force drivers to shift to adjacent streets, increasing the traffic volumes on these streets to unacceptable levels. Concerns were also articulated that the devices would not be effective in modifying the behavior of parents and guardians and the clockwise pattern might actually result in more speeding.
Test diverters were installed for three months before follow-up data was collected. In February 1998, advisory ballots were mailed to residents and non-resident property owners on the affected streets. To ensure that a sufficient number of the affected residents expressed their opinion regarding the construction of permanent structures, committee members circulated a second ballot. Out of 41 affected properties, 30 responses were obtained and 22 favored permanent construction.
Construction costs were paid for by the City of Portland using funds budgeted for neighborhood traffic calming. Total cost for the project was $54,000. A project breakdown follows:
Traffic Diverters and Circulation around the school, $25,000
Improvements at 17th and Shaver, $5,000
Fremont Crossing Improvement, $16,000
Prescott Crossing Improvement, $ 8,000
Results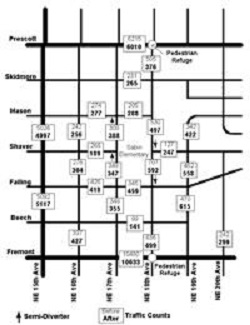 Because traffic diverters were installed, traffic volume data was collected from several streets that are parallel to the streets around Sabin Elementary. This data collection provides a better picture of what effect diversion had on the general neighborhood.
The Sabin Elementary School Safety Project has succeeded in meeting its primary goals. Traffic flow around the school has been changed from a two-way pattern to a predominantly clock-wise pattern. The potential for two-way traffic conflict, where space exists for only one vehicle, has been significantly reduced. This change also allows pedestrians to cross only one direction of traffic at a time instead of trying to negotiate two separate flows.
As a result of testing the diverters, it was determined that speed did not increase as feared, so speed bumps were eliminated from the project. Vehicle speeds remain similar to pre-project measurements. On 17th Street, 85th percentile speeds changed from 26.5-27.5 mi/h south of Shaver, and from 28-26 mi/h north of Shaver. On 18th Street, 85th percentile speeds changed from 28 mi/h-22.5 mi/h south of Shaver, and speed remained at 25.5 mi/h north of Shaver.
Pedestrians also benefited from the removal of an older semi-diverter that obscured pedestrian visibility on 17th Avenue. The new diverter does not have the same intensity of landscaping that was the cause of the previous visibility problems.
Finally, median refuge islands were installed at two intersections on 18th Avenue to improve crossing safety on Prescott and Fremont Streets, the two major arterial streets surrounding the school. The primary benefit of median refuge islands is to allow pedestrians to concentrate on crossing one direction of traffic at a time. When a gap appears in the nearest lane, they can safely cross to the middle of the street, where they can shift their attention to traffic coming from the other direction. Refuges are also very helpful for the elderly, people with a variety of disabilities, or any pedestrian, because they help organize the crossing task into a simpler two-step process and provide some physical protection in the interim. This is especially important for elementary-aged children who are just learning to accurately judge the speed of oncoming vehicles, and are placed at serious risk when they are required to judge the speed of multiple vehicles from two directions and/or turning into the street at the intersection.
After implementation, the Sabin Elementary School principal discussed the project with several adjacent residents. They agreed that the new traffic pattern has reduced congestion and speeds at the opening and closing time of school. Parking has improved, and conflicts between buses and automobile traffic have been reduced. Overall, traffic calming at Sabin Elementary has enhanced street safety, livability, and pedestrian conditions.
Contact
Scott Batson, PE.
Portland Bureau of Transportation
1120 SW Fifth Ave, Suite 800
Portland, OR 97204
Phone: (503) 823-5422
Email: scott.batson@portlandoregon.gov