Shared Street Developments
Boulder, Colorado
Source: Pedestrian and Bicycle Information Center (PBIC)
Problem
A developer wanted to create residential neighborhoods that supported pedestrian activity.
Background
The narrow street and landscaping of The Cottages development encourage slow vehicle speeds.
Many residential developments built in Boulder and throughout the United States during the 1960s and 1970s featured wide streets, allowing vehicles to travel at fast speeds through neighborhoods and discouraging pedestrian activity. However, in the 1980s, the Wonderland Hill Development Company decided to build two moderate-income housing developments in Boulder inspired by the Dutch idea of a woonerf, or "living street," a street built to accommodate pedestrians, bicyclists, and motorists equally. The two housing developments, the Cottages and Bridgewalk, consisted of loop streets connecting dense, condominium-style housing.
Solution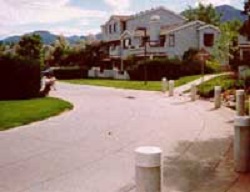 The curves in Walden Circle were designed to slow vehicles traveling through the Bridgewalk development.
The Cottages, built in 1983 by the Wonderland Hill Development Company, consists of a single lane that loops in a half circle from Utica Avenue. It is located within three blocks of Boulder's Foothills Park and includes 40 units of owner-occupied, moderate-income housing, with a moderate housing density of 7 units per acre. The sidewalk along Utica remains level across both branches of Cottage Lane so drivers entering the development must drive up an incline. This is intended to give the perception of entering a calmed environment. Slow vehicle speeds are encouraged because the street is fairly short and curves slightly.
Bridgewalk, built in 1986 by Wonderland Hill in conjunction with the Boulder Housing Authority, is significantly larger than The Cottages, with 123 rental units. Its street, Walden Circle, is a loop attached to Tantra Drive with a short extension. Because of the project's proximity to large parks and a planned office building, it was intended to be pedestrian-oriented while also functioning as a neighborhood with a sense of community. The design also prevents cut-through traffic.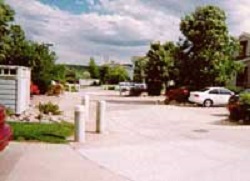 The dense housing and narrow streets of the Bridgewalk development are intended to encourage pedestrian activity and create a tight-knit community.
Jim Leach, an engineer and President of Wonderland Hill Development Corporation, says that when designing projects he tries to prevent cars from having a negative effect on the neighborhood. He incorporated living streets characteristics within the design of these two housing projects. The lanes through each of these housing developments are fairly narrow concrete surfaces bordered by landscaping and bollards to provide an edge. The streets meander back and forth to encourage slow speeds, which makes conditions safer for pedestrians.
Results
Since its construction, Bridgewalk has had to update some of the original design. For example, the original concrete bollards were built in such a way that when vehicles (usually moving vans) hit them, the concrete surface of the roadway cracked as well. Also, some portions of Walden Circle are relatively straight and free of obstructions, encouraging drivers to accelerate and causing the managers of Bridgewalk to consider traffic calming measures to slow down vehicle speeds. Finally, unlike European woonerfs, where the shared pedestrian/vehicle space becomes the primary area for residents to play and relax, Bridgewalk included backyards, a pond, porches, and other areas for people to congregate. As a result, the shared automobile/pedestrian space tends to be used almost exclusively by cars.
Despite some difficulties, both of these developments create the feeling of a tight-knit community and provide some guidance for future shared street style projects. Marty Frick, Project Director of the Boulder Housing Authority during the construction of Bridgewalk, said that the use of shared streets in developments must be well thought out. She felt that the provision of sufficient parking space was essential, as was creating some walking areas that are distinguished by the pavement color or texture. Roger Lewis of Diversified Properties, which manages Bridgewalk, said that the landscaping improvements over the past decade have shown that creating an edge is essential in a project without curb and gutter. Finally, Jim Leach of the Wonderland Hill Development Company feels that for these types of projects to work, it is essential that cities have flexible standards to allow site-specific variation and innovations.
Over the past ten years, the city of Boulder has embraced many New Urban street concepts and standards for new residential and mixed use development. The Holiday neighborhood, recently developed on an old drive-in theater site in North Boulder, is a good example. It is designed for walkability with detached sidewalks, tree lawns and streets designed for traffic calming including narrow widths at pedestrian crossings. The neighborhood also has many woonerf-like small private drives and alleys that are attractively landscaped to encourage integrated pedestrian and vehicle use. The new neighborhoods like Holiday, together with many pedestrian and bike friendly changes to the older street system, have made Boulder a national example as a pedestrian and multimodal city.
Contact
Jim Leach, President
Wonderland Hill Development Company
745 Poplar Avenue
Boulder, CO 80304
Phone: (303)449-3232