Houston METRO - Making Room for Bikes
Houston, Texas
Source: Pedestrian and Bicycle Information Center (PBIC)
Background
Houston, Texas, is home to one of the most successful light rail lines ever built in the U.S. in terms of ridership per track mile, boasting an average daily ridership of about 37,000 in September 2013. METRORail's Red Line consists of 18 cars that operate along a 7.5-mile route, beginning at the downtown campus of the University of Houston and ending near the Texas Medical Center.
In 2007, BikeHouston, a local bicycle advocacy organization, and the Citizen's Transportation Coalition joined forces to advocate for the implementation of bike racks on METRO buses. Houston METRO began accommodating bicyclists on buses by equipping the buses with the highly successful front-loading bike racks. However, for the light rail line, access for bicycles was severely limited, as bikes were only allowed between 9:00 a.m and 3:00 p.m, there were no bike racks available on the narrow-aisled cars, and METRO officials had previously contended that the introduction of safety racks would pose problems for safety and congestion.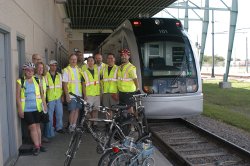 Image Source: Margaret O'Brien Molina
Countermeasures
As part of the long-term planning process, METRO began considering the details of light rail service expansion. During discussions of the expansion, METRO officials sought the input of BikeHouston representatives about their views of light rail service and possible impacts on the cycling community. The communication was also intended to inform bicycling stakeholders about construction activities that would be occurring around rail expansion in hopes that these issues could be communicated to the wider bicycling community through the BikeHouston network. Through these conversations, members of BikeHouston called attention to the limited accessibility issues and METRO listened to the concerns in an effort to better plan for future light rail service.
As the conversation progressed, the working group expanded to include the Rail Operations Center and Service Delivery staff, Safety and Security, Communications and Marketing, and Planning staff. The inclusion of representatives from these departments allowed METRO to better gauge the considerations of rider density during peak hours, configuration and safety of various bicycle storage alternatives, and current operating conditions. Later, METRO established additional dialogue with the communities where future rail will be installed and increased the bike working group to include the City of Houston's Bikeways, Parks, and Sustainability departments.
During the bike working group's study of ridership patterns, METRO planners saw an opportunity to change the hours that bicycles are permitted on board. To better accommodate cyclists, METRO expanded the bike-friendly hours on light rail to include all but peak-hour travel, defined as weekdays from 6:30 to 9:00 a.m. and 3:00 to 6:00 p.m. During weekends, bikes are now permitted at any hour. In addition to the expanded hours, METRO and BikeHouston also worked to consider a number of bicycle-storage alternatives, finally deciding on removing fixed seats from cars to provide space for bikes. Reviewing a variety of configurations on the Siemens cars, BikeHouston members and METRO officials gathered to test them, eventually deciding on a format that would remove two benches (four seats) from each end of the car.
In July 2010, Houston METRO began implementing the changes in the form of a 30-day trial period on 11 of the 18 Red Line cars. The program was initially "soft-launched," since there was uncertainty as to the public reaction and impacts on ridership. Eight total seats from each car were removed and replaced with standing space and overhead straps. By September 21, METRO judged the program a success and implemented the changes on all 18 cars, adding signage informing riders of the appropriate bike entry doors and storage areas. Furthermore, the incorporation of the Bikeways, Parks, and Sustainability departments to the working group has allowed METRO to begin planning better for bicyclists as it introduces light rail to new communities. Discussions thus far have included new mapping, wayfinding signage, and bike racks.
Evaluation and Results
Spurred by media coverage, Houston METRO conducted informal surveys during the testing period using Twitter, Facebook, and other social media. Polling was done electronically and in-person, with overwhelmingly positive results. The public relations survey conducted resulted in greater than 95 percent positive feedback. In fact, not only did riders react positively to the expanded access for bicyclists, but the changes benefited multiple types of users, including passengers with disabilities, parents with children, and those riders preferring to stand.
In October 2013, there were 22,230 total monthly bike boardings on METRO vehicles (including buses and light rail cars). That figure is a 10 percent increase over the previous month and a 44 percent increase over the total from October 2012.
Conclusions and Recommendations
Rider feedback indicated that the seat removal and hours changes were not only beneficial to the bicycling community, but to a variety of other users as well. The Siemens rail cars have narrow aisles, which made navigating the cars difficult for handicapped riders and riders with strollers. With the removal of seats, many passengers have noted the improved navigability and improved options for securing wheelchairs, strollers, and bikes. Most importantly, though, this initiative signals that Houston METRO is planning for and promoting bicycling as part of a larger transportation network. According to METRO's associate vice president, Andrew Skabowski, "It's METRO being more mobile, if we can. The biking community is saying, 'Hey, we're not just for recreation anymore; we bike to work.' That's important to that community, and we're there to assist and get people to work."
With the March 2013 expansion of Houston's bikeshare program, B-Cycle, METRO is working on a report that includes recommendations for improving the transit-bike connection for bikeshare users.
Costs and Funding
The change was financially beneficial to Houston METRO. While the initial cost of the configuration change was a total of $7,791.12, with labor accounting for $3,150 and materials for the remaining $4,281.12, METRO also experienced a one-time savings of $8,640 by returning the removed seats to the stock of spares. Further, METRO also saves $3,960 annually for the decreased maintenance needs on the 18 cars.
Contact
Margaret O'Brien Molina
Metropolitan Transit Authority of Harris County
Margaret.O'BrienMolina@ridemetro.org
713-652-4346