Improving the Pedestrian Environment at Grand Army Plaza
Brooklyn, New York
Source: Pedestrian and Bicycle Information Center (PBIC)
Problem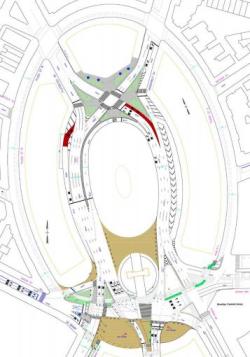 As the map of Grand Army Plaza illustrates, there are a number of intersections that would be difficult for pedestrians to navigate. Image courtesy of the New York City Department of Transportation.
Grand Army Plaza in Brooklyn, New York formed a barrier to pedestrian travel due to limited crosswalks between the neighborhoods of Park Slope to the south and Prospect Heights to the north and especially from the subway stop at the northern section. The large amount of automobile traffic was difficult for pedestrians to navigate which discouraged pedestrian use of the area.
Background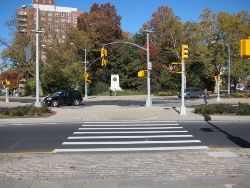 High-visibility crosswalks and large refuge islands make it easier for pedestrians to cross the roadway. Image courtesy of Branden Klayko (2011).
Grand Army Plaza encompasses 11 acres, including the roadbed, and it forms the northwest corner of Prospect Park. It is home to the Brooklyn Public Library to the southeast and the Grand Army Plaza subway station to the northwest, with Flatbush Avenue, Union Street, Eastern Parkway, and Vanderbilt Avenue radiating out from it. The plaza hosts the second largest market in New York City's Greenmarket program on Saturdays. Originally designed by Calvert Vaux and Frederick Law Olmsted in 1867 as a formal entrance to Prospect Park, Grand Army Plaza was congested with vehicles throughout much of the 20th century. Pedestrian crossings grew more dangerous as the roadways around the plaza continued to grow in size. In 1927, a "Death-O-Meter" sign was installed at the plaza to track Brooklyn traffic fatalities.
Between 1999 and 2007, many initial improvements were made at Grand Army Plaza: four landscaped islands and two protected bike paths at the southeast section of the plaza; marking, sign, and signal changes throughout; and a reduction in the hours during which Prospect Park was open for vehicles to drive through. Still, all westbound traffic from Eastern Parkway was forced to make a horseshoe turn around the Grand Army Plaza oval and, while still turning, merge onto southbound Flatbush Avenue. This traffic pattern resulted in many westbound motorists merging across five lanes of traffic. Even with the islands, bike paths, and signal changes that were implemented, the south end of Grand Army Plaza still had some gaps for pedestrian and bicycle circulation. Large swaths of park still looked like roadbed, encouraging illegal parking and discouraging use by pedestrians. The Grand Army Plaza Coalition (GAPCo) sought to communicate the needs and wants of local residents. The New York City Department of Transportation (DOT) first presented these improvements in April 2010 to its Community Boards and received support.
Solution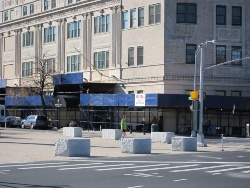 Large granite blocks and crushed gravel surfacing delineate pedestrian space from the roadway. Image courtesy of Branden Klayko (2011).
In the summer of 2011, the DOT transformed Grand Army Plaza with new lane configurations, new signals and phasing plans, new concrete islands with planting beds, and a major sidewalk extension to normalize the northern intersection. The DOT also built shorter pedestrian crossings and direct paths along pedestrian desire lines with new crosswalks. Crushed gravel surfacing was applied to the large expanses that had already been intended to remain car-free, adding granite blocks and flexible delineators behind double white striped-lines as protective edging. New benches were added to humanize the traffic islands and spaces.
Although primarily a pedestrian project, a new traffic signal that eliminated the challenging merge for westbound traffic crossing southbound Flatbush traffic became one of the most popular improvements. Bicycle lanes were added to link existing bicycle routes and separate bicyclists from other vehicles.
Results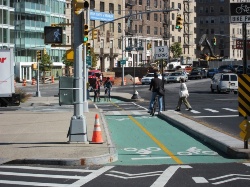 Colored bicycle lanes separated from the travel lanes by a median. Image courtesy of Branden Klayko (2011).
In total, 1.5 acres of new pedestrian space was created. The changes to Grand Army Plaza included the addition of 7 new crosswalks, including a 58 ft wide crosswalk that connects the park to the landmark arch; 7 segments of bicycle lanes; and 10 shortened crosswalks. The shortened crossings and large median refuge islands made navigating the plaza safer for pedestrians. Pedestrian signals notified pedestrians of the appropriate time to cross, reducing the likelihood of pedestrian-vehicle conflicts. The project has received enthusiastic public support and the local group GAPCo has been especially happy with the results.
Contact
For additional information, refer to the following websites:
http://www.nyc.gov/html/dot/html/home/home.shtml
http://www.nyc.gov/html/dot/html/sidewalks/pedestrian_projects.shtml