Access to Transit
Washington, District of Columbia
Source: Pedestrian and Bicycle Information Center (PBIC)
Problem

Before and after photos of a sidewalk construction project at Franconia-Springfield. Before, pedestrians had to walk in the travel lane to avoid the fence and reach the station.
Some rail transit stations in suburban areas of the Washington, DC metropolitan area were designed to accommodate commuters who arrived by motor vehicle to a greater degree than those who arrived on foot. Pedestrians arriving at these stations did not always have direct access to the stations and created their own pedestrian desire lines to quickly reach their destination. This situation resulted in conflicts between motor vehicles and pedestrians.
Background
The Washington Metropolitan Area Transit Authority (WMATA) operates the second largest rail transit system in the US. Metro, as the system is called, serves Washington, DC, Maryland, and Virginia. Between 2002 and 2007, the number of people arriving at stations on foot during the morning peak increased by 18 percent. Since the metropolitan area is forecasted to continue to grow, ensuring safe access to stations for all travel modes of arriving passengers is an on-going focus for the transit authority.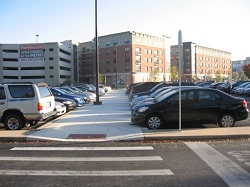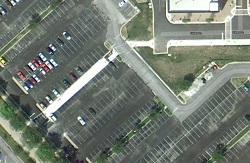 A set of crosswalks and a sidewalk were built to provide access between the Twinbrook station and an adjacent neighborhood.
As part of a system-wide inventory of Metrorail station area bicycle and pedestrian access needs, Metro staff identified stations that could benefit from improvements to pedestrian walkways. Franconia-Springfield station in Fairfax, VA, Twinbrook station in Montgomery County, MD, and Landover station in Prince George's County, MD, were some of the stations identified through this process that had areas lacking adequate pedestrian facilities.
Solution
To encourage pedestrian traffic and ensure pedestrians' safety, WMATA built new sidewalks and crosswalks where necessary. The following images show changes that were made outside the Franconia-Springfield, Twinbrook and Landover stations.
Results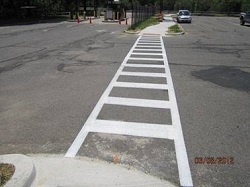 Prior to adding these crosswalks at the Landover station, pedestrians accessed the station by walking on the roadway and through the revenue collection area for the parking lot.
These relatively simple treatments greatly enhanced the pedestrian environment outside of the stations. Pedestrians no longer had to compete with motorists for space as they approached the stations. People living or working in areas adjacent to the stations could safely access the stations on foot.
Contact
Matthew Zych
Senior Planner - Office of Long Range Planning
Department of Planning and Joint Development
Washington Metropolitan Area Transit Authority
Phone: (202) 962-2076
Reference
Washington Metropolitan Area Transit Agency. Metrorail Bicycle & Pedestrian Access Improvements Study. Washington, D.C., 2010. http://planitmetro.com/wp-content/uploads/2010/12/Metrorail-Bicycle-Pedestrian-Access-Improvements-Study-_Final.pdf