Pedestrian Infrastructure
San Francisco, California
Source: Pedestrian and Bicycle Information Center (PBIC)
Problem
San Francisco is a compact, high-density city with high rates of pedestrian travel. Since pedestrian activity is integral to San Francisco, the city is concerned with making sure pedestrians can safely move through the city.
Background
San Francisco, California, is approximately 47 square miles and has many six-leg intersections. Compared to other major US cities, San Franciscans rely heavily on public transit and walking. Due to this reliance on alternative modes of transportation, the San Francisco Municipal Transportation Agency (SFMTA) tries to make sure that the roads are as safe as possible for pedestrians.
Solution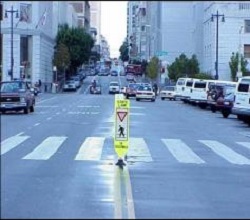 As part of a Federal Highway Administration (FHWA) sponsored study, the City of San Francisco installed and evaluated a variety of countermeasures. The 13 countermeasures that were evaluated included in-street "Yield to Pedestrians" signs, "LOOK" pavement markings, modified signal timing, leading pedestrian intervals (LPIs), advance stop lines, ADA curb ramps, median refuge islands, retro-reflective materials, flashing beacons, speed trailers, and automated pedestrian detection. When used in combination with each other, these countermeasures were designed to improve pedestrian safety.
Results
The countermeasures were found to improve pedestrian safety in San Francisco. The SFMTA concluded that flashing beacons, impactable yield signs, LPIs, portable speed trailers, yield to pedestrian signs, and automatic video detection with signal extension were the most successful countermeasures. In-street, impactable yield signs produced substantial increases in driver yielding compliance (52.6 percent to 67.6 percent), although the authors also noted that the signs were easily damaged. LPIs were found to lead to a reduction in the number of vehicles turning in front of pedestrians in the crosswalk, from 6.2 percent before to 4.0 percent after. Flashing beacons, both push button-activated and those with automated detection, led to a reduction in vehicle-pedestrian conflicts and a substantial increase in vehicle yielding. The pre- to post-installation change in driver yielding due to flashing beacons was 81 percent to 94 percent. Additionally, portable speed trailers were found to reduce speed by 1 to 6 mi/h.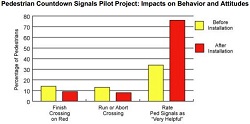 The SFMTA also determined that in-street "Yield to Pedestrians" signs and pedestrian countdown signals were particularly cost-effective countermeasures. Pedestrian countdown signals were installed throughout the city, and a 22 percent drop in injuries at locations with pedestrian countdown signals was noted compared to a 2 percent increase at intersections with only traffic signals. Overall, a combination of pedestrian safety countermeasures was found to have a significant impact on pedestrian safety in San Francisco.
References
Federal Highway Administration. (2008) San Francisco PedSafe Phase II Final Implementation Report and Executive Summary. http://safety.fhwa.dot.gov/ped_bike/tools_solve/ped_scdproj/sf/pedsafety_sf.pdf